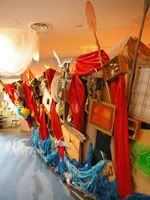 Alzaruba Ocean at the Creative Alliance at the Patterson
At first sight, Alzaruba's Ocean installation at the Creative Alliance appears as a messy, sprawling affair of detritus accumulated from the local garbage dump. Upon closer inspection, it is a 70 foot long ship, straddling the gallery, seeming to will itself to form from the clutter around it. The main installation features video, sculpture, performance costumes, and more traditional two-dimensional work along with the cluttered exterior that houses/holds it all together. The resulting mess is both extravagant and overwhelming.
Ocean does not go down easily for the visitor expecting to see neatly framed paintings on the wall or pedestaled sculpture in the middle of a wide open gallery space. The spaces inside the installation are dark, claustrophobic and private. It is an immersive experience that to appreciate must be connected to through touching, listening and watching.
Alzaruba presents Ocean's boat as the central metaphor that encapsulates the grandeur of the human experience. According to his press release, "He (Alzaruba) makes no bones about wanting to capture it all: humor, pathos, fear, sex, danger and satire." Alzaruba is an artist of excess rather than an artist of restraint. Rather than focus on a specific element or viewpoint, he embraces the entire whole of being, humanity and experience. It is a way of creating that pulsates with ambition and revels in its own quixotic nature.
Alzaruba's work is difficult to categorize but the best forerunner might be Kurt Schwitter's Merzbau, a similar work that blurred the separation between life and art, sculpture and installation, as well as the personal and the private. Schwitter's transformed his apartment into a work of art, with pieces of junk and personal relics attached to the ceilings and walls, which forced anyone entering the apartment to be immersed in a sprawling, fully environmental sculpture. Similarly, Alzaruba's Ocean presents the obsessive mind of a determined and forceful artist building a kind of constructed autobiography of personal and historical reminiscences. The difference between Schwitter's work and Alzaruba's is that Schwitter's work was one of retreat from reality into a private world, whereas Alzaruba's work is an interruption into the fabric of reality.
Overall, Ocean is a full-on gonzo approach to art-making. It isn't the type of art work to hold back to preserve an academic form of idyllic beauty, rather, it is a work that is not afraid to be messy, dirty, flawed or cluttered. In this respect, Alzaruba's work takes an honest approach to life and art. The message seems to be that life and memories are full of clutter, perversion, rage, tears but above all, in Alzaruba's world, exuberance in living. There is true joy taken in interrupting the dreary ordinariness of everyday life. In Alzaruba's work the artist is the shaman, the guru, the crazy man willing to make a complete fool of himself to show the everyday passerby or visitor that there is another way of living life. If the viewer is willing to step outside of themselves for a moment to see the world through the eyes of another, Ocean offers an entertaining and exuberant way of seeing the world.
-Jarrett Min Davis