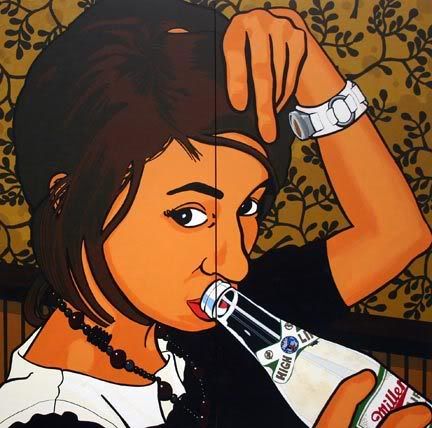 Hurst
The last of the three MFA Thesis shows at MICA, "Ethereal Heist" is a painting-heavy exhibit that feels the fullest, the most polished, and the most conservative of the three shows this spring. For those who do not know the backstage logistics of these exhibits, here is a quick synopsis. The second year MFA candidates at MICA are given the opportunity to exhibit their work in three of the school's galleries. There are three shows, each lasting almost two weeks. The candidates from varying departments decide (mostly) without mediation from their directors or from the graduate administration who will show with whom and who will show in each space. Through this multi-month planning process, these artists get a condensed business school lesson in group dynamics as they jockey for prime exhibition space and negotiate each show's formal arrangements. Overall, "Ethereal Heist" is a big show with some small surprises that is an exciting finale for this season of MICA' s MFA exhibitions.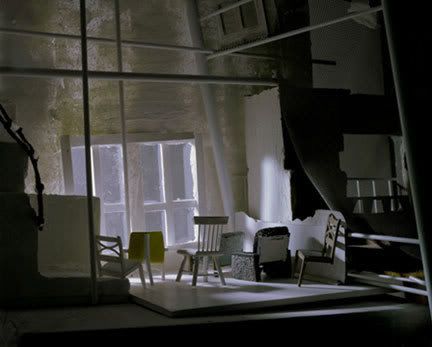 Lieburn
The most inquisitive bodies of work in this group show may also happen to be the smallest, two of which function on a miniature scale. Jodi Lieburn's "From Here to There From Here to Where?" is a sculptural play in space that utilizes a delicate system of handmade ladders and poles and painted wall shadows that freely meander through the exit way of the Fox 3 gallery. Lieburn's poetic sculpture invites the viewer to participate by visually navigating across her nonsensical structure. "From Here to There", metaphorically questions the nature of human relationships and communication while pondering the disconnected space where the lines of communication are broken. Regrettably, all of Lieburn's sculptural works are, whether intentionally or not, installed in varying corners of the galleries and are overshadowed by larger, more spatially dominant works.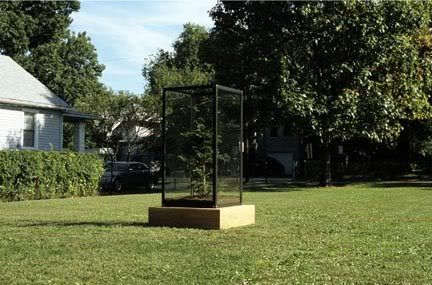 Martin
Jackson Martin's mostly readymade sculpture, "Just in case (Everything I'd Want in a Backpack if Shit Went Down)" displays an array of essential camping tools enclosed in a flawlessly crafted steel showcase. The artist, whose work I would like to see more of in this show, raises timely questions about the primordial nature of survival in the midst of politically turbulent times. Martin strives for an objective manner of presentation, one which hides it's own process of making, and creates an emotional distance for the viewer to safely appreciate the subtle humor inherent in his work.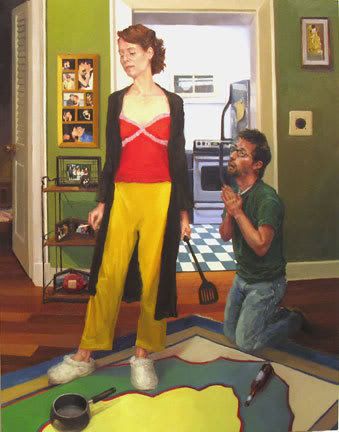 Rogers
Nathaniel Rogers's hyper detailed, oil on panel paintings are about the same size as a postcard or an 8 1/2″ by 11″ sheet of paper. Rogers's executes painterly precision and utilizes geometric devices and patterning to create his puzzle like compositions. The seven paintings exhibited all employ humor, violence, and banality to develop an open-ended narrative that seems both personal and universal. Roger's cast of characters never make eye contact with the viewer, a characteristic that creates a voyeuristic space through which his carefully staged drama can unfold. Roger's intimately scaled paintings asked to viewed from a few inches away, an interaction that enables his imagery to grow in the mind's eye long after initial contact is made with the painting.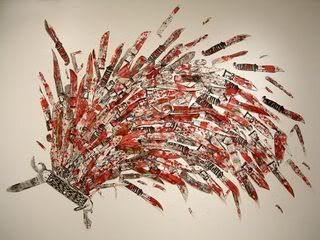 Barnes
Neighboring Roger's works in the Meyerhoff Gallery is an explosive cut-paper collaged drawing installation by Ramsay Barnes. The Pettibonesque drawing entitled, "Tool", depicts a violent exploding fountain of bloody knife blades flowing out of a larger than life Swiss Army style knife. "Tool", combines all of the action and spirit of an Abstract Expressionist painting with Barne's personal language of Boy Scout symbols to create what is perhaps his most visually engaging and alarming work in the show.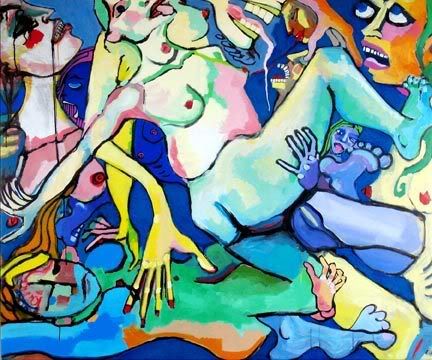 Wade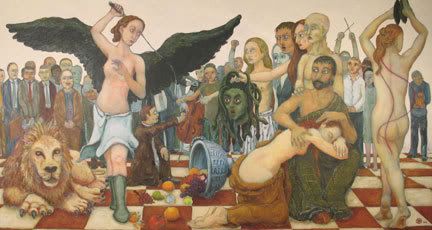 Jackson
The Decker gallery includes works by Michael Hurst, Elizabeth Wade, Stuart Jackson, Michael Sandstrom, Wonsun Shin, and Jodi Lieburn. Michael Hurst's super-flat, hard-edged, paintings visually dominate the exhibition space. Hurst paints transitional snapshots of daily life through a graphically reduced, cartoon-like style that is reminiscent of the portraits of Alex Katz. "Morning Cool", the largest and most confrontational painting, depicts a 20-30 something woman in a fur-lined coat in front of her city apartment building. With a potentially cynical, "What are you looking at" glare, the woman stares at the viewer who is put into a position of vulnerability. Hurst seems knowingly aware of the multitude of signs and symbols found in everyday life and he mixes them freely in his psychologically layered paintings. I would for the sake of everyone else's work in the gallery like to see Hurst's paintings in a separate, self-contained environment, like the thoughtful photographic installations of Kelly Egan and Lesley Deschler Canossi on the third floor.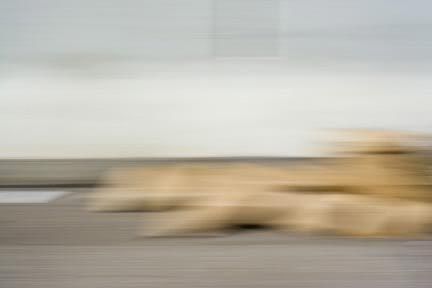 Egan

Sandstrom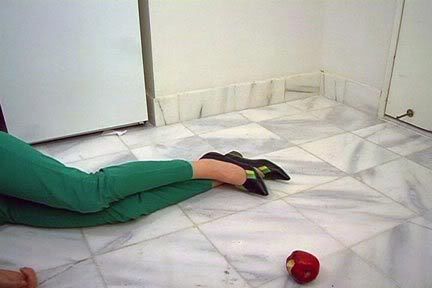 Shin
A final visit to the overlooked Fourth Floor Fox hallway gallery revealed smaller works by all of the participating artists, including two previously unseen photographs by Wonsun Shin. Shin's photographs serve as poetic distillations of her videos that are on view in Fox 3 and succinctly embody the tragic spirit of those ambitious video works.

Cannossi
If you missed the exhibition, check out the "Ethereal Heist" website. www.etherealheist.com.
(by Paul Jeanes)