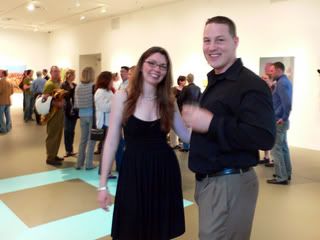 Jordan Faye Block and Michael Sandstrom at the opening
"Curator and contemporary art impresario Jordan Faye Block had a simple goal: assemble the best damn painters in the area, period. The result is an exuberant collection of fourteen younger painters, a powerful statement about the medium's continuing significance, and a cross-section of trends in painting today" –Press release for Believe It: 14 Painters

Jim Reick and Spoon Popkin in front of Reick's painting
These painters may not be the "best damn painters in the area, period" but they might certainly be the most aesthetically pleasing and commercially viable group of Baltimore artists, period. It is unavoidable to write about this work without also writing about Ms. Block and her emerging role in the art community in Baltimore. She has done an outstanding job giving opportunities to young artists in Baltimore to exhibit, and perhaps more importantly, to sell their work. Ms. Block deserves full credit for having the ambition, intensity and drive to bring the Baltimore scene to collectors' attention. That being said, I would like to point out some observations and reservations that I have about the nature of this exhibition.

John Moran and Paul Jeanes at the opening reception
First, I find it somewhat baffling that of the fourteen painters in this show, few of them are something Other than white Western European. It would have been nice to include artists who reflect Baltimore's diversity. This is not an argument for quotas in exhibitions, but this exhibition misses the differing viewpoints, social status and dissenting voices of minorities. If the art community in Baltimore is to be more than just an afterthought in the art world, it has to rely on the originality and diversity of the city. It should not present a homogenized group of MFA recipients and call it a "cross-section of trends in painting today." I find it slightly offensive to say that an overwhelming majority of white painters are a sufficient "cross-section" of painters in Baltimore.

Lori Larusso
Second, apparently if you want to be considered one of the "best damn painters in the area, period" you should use a variation of teal, bubblegum pink, wasabi green and mustard yellow in your paintings. I joke, but I find it interesting that among the fourteen painters, there is definitely a shared affinity for certain colors. This could be an anomaly, or a reflection of the work selected for the exhibition, but there is definitely a color bias in the work presented. It is difficult to detect the conceptual shifts between the works while seeing a distracting color match in your periphery. The work is hung too close together which heightens these problems. The large, brightly colored canvases drown out the smaller scale work in the exhibition. The matching colors may serve to create an atmosphere, but it is not necessarily the best forum for viewing work.

Erin Cluley
Third, for some reason, flowers are a trend in this exhibition. James Rieck, Erin Cluely, Cara Ober, Randi Reiss-Mcormack, Isabel Manalo and Kate MacKinnon all feature flowers or flower-like objects in their work. Once again, this may be a complete coincidence or a reflection of the work selected. However, it undercuts the psychological and conceptual differences between the artists.

Rob Jones, Erin Cluley, and Paul Jeannes at the opening
These artists are good painters, but it is difficult for them to shine in such a crowded group exhibition. James Rieck is a slick painter who's cropping techniques does not get across their concepts when sandwiched between the medium/big size work of Ron Smyth and the smallest work in the exhibition by Erin Cluely. His large painting is awkwardly placed forcing the viewer move back to see Rieck's work, forward to see Cluely's work, and in-between to see Smyth's work. Cluely's paintings are intimate and rely on their ability to draw the viewer in. Unfortunately, Cluely's work is in between the largest work in the exhibition and a large piece from Cara Ober. The work seems overwhelmed, which is a shame, because the enjoyable intricate delicacy of the work and its paper support is worth experiencing.

Rob Jones
Rob Jones' work "use(s) heightened color to get emotional tensions (and) utilizes bright color (to) coagulate the image into something other than reality." Unfortunately, in an exhibition of brightly colored work, this technique does not work. Furthermore, Jones' work is stuck in the corner of the gallery next to the larger scale work of Isabel Manalo who also uses pretty patterns and bright colors. The two painters' palettes seem to clash with each other and the result is that Jones' work gets lost simply because Manalo's work is bigger. Michael Hurst's work deals with its placement in the corner better than Jones' work, due to the more naturalistic palette of Brady's landscape to the left of it.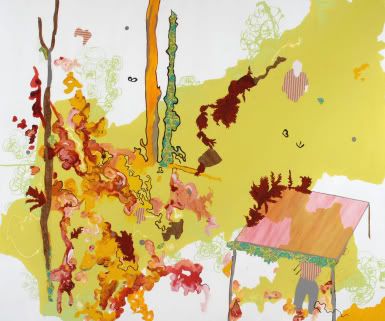 Isabel Manalo
Dawn Gavin's fragile collages featuring maps seem out of place besides the larger scale mapping lines of Manalo's painting and Elizabeth Brady's large scale landscape. This is an example of smaller scale work being overwhelmed because of its placement in the gallery, rather than it actually being weaker work.

Dawn Gavin

Julie Jankoswki
Julie Jankowski's satellite tower paintings come off better because they are placed next to the similarly scaled work of Lori Larusso. Larusso, Kate MacKinnon and Michael Sandstrom all share an interest in glossy surfaces that is different than their fellow painters. These works in particular, would have much more impact if dispersed throughout the gallery, rather than being grouped together. MacKinnon and Sandstrom also use more subdued colors than their fellow contemporaries. Their work should have been used to give the viewer some breathing space between the color-blasted canvases.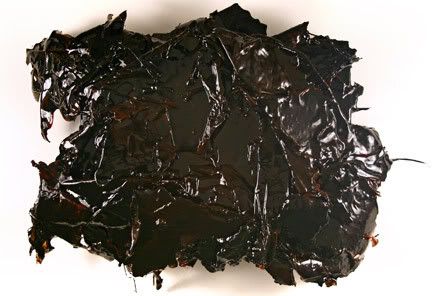 Michael Sandstrom
Conceptually, these contemporary painters suffer clashing comparisons because their interests are similar. Mapping, identity, appearance and pop culture, by way of the 1960's and 70's French intellectual movement, are served up in the same brightly colored clothes. Nuance in these concepts is lost because of the similar color schemes and counter-productive differences in scale and placement. Each painter seems interested in exploring deeper meanings and connections, while at the same time creating an alluring painted surface. Michael Sandstrom might be the exception. His use of petroleum-based materials has implied political overtones. It is a refreshing departure from the rest of the work in the exhibition. However, his work is hung next to the very edge of the gallery space and is easily seen as an afterthought rather than a focal point. The overall concept of the show seems to be the relationship between artists and their decorative surfaces, rather than the meat of their conceptual framework. None of the work has the grit and danger that seems to exemplify Baltimore, or what is left of avant-garde art. The only almost gritty moment depicted in the exhibition is de-fanged by the super-flat cartoon kitsch style of Michael Hurst.
The most contemporary work in the exhibition is also perhaps the most accidental. Painted on the floor is Jordan Faye Block's personal logo for the coming Jordan Faye Contemporary gallery. It is an approximate four foot by four foot teal square, emblazoned upon the grey floor of the Creative Alliance space. The idea of someone, artist or curator, "branding" their logo onto the floor shows an audacity of ownership, authority and power put into practice by way of commerce. It is an idea that would even make Michael Foucault blush. It is a pure action appealing to commodity and ownership, rather than indirectly referring to vague post-modern sentiments wrapped in matching colors. This one action of legitimized "tagging" seems more contemporary and deserving of meditation than all the paintings on the walls.
This exhibition is an example of competent artists whose group dynamic makes their work look weaker than it actually is. Each of these artists deserves to be looked at on their own terms, but in this exhibition, it is difficult to detect the strengths and weaknesses of each individual artist. Ms. Block's efforts on behalf of the art community in Baltimore is appreciated and also needed. She should, however, make an effort to include more artists with different voices. Then it would be a true "cross-section of trends in painting today", and not just a group of painters whose work seems to be made to match a collector's couch.
-Jarrett Min Davis