'The Rough and the Smooth' at Villa Julie College. This exhibit closes May 30
By Cara Ober
I need to confess something: I love Dana Reifler's work. From the first time I saw her paintings in a MICA graduate studio, I was a goner. Unselfconscious as a five-year-old and elegant as architecture, Dana's work contains a weight and a depth that resonates on many different levels. It hints at universal truths and infinite stretches of time. It flirts with the quickest, most impulsive, and silliest of marks. It balances spontaneity, simplicity, structure, and surface without referencing pop culture or even, necessarily, contemporary art. In short, it is an anomaly.
After this initial sighting, I set out to make Dana Reifler my friend, and, later, my studio mate. So we might as well have it out in the open: I am completely and utterly biased as a reviewer in this case. I absolutely love this work.
Dana started out as a psychology major at Wake Forrest, with a visual art minor. After college, she decided to focus on art and enrolled in the Post-Baccalaureate program at MICA, to give the work time to evolve before applying to graduate school. She continued to explore psychology, specifically the physiology and structure of the brain, in a series of thick, earthy oil paintings, which gained her acceptance into the Hoffberger school of painting at MICA.
Once Reifler started gradschool, the problems started. She felt stuck in a rut and unsure of where to go next. Her paintings became more work than play and she felt the need to edit out most of the marks she put into her paintings. Unsure of where to go next, Dana designated one wall of her studio as the 'reject' wall. She covered it in paper and then, for every mark that she thought about putting in a painting and didn't, she marked it on the wall. By accident, Reifler discovered the new material that would change her work: clay coated paper. A friend was throwing a huge stack of it away, so Dana used it to paper the wall. Free from worries about the final product, these works on paper evolved playfully and organically, and became her next body of work.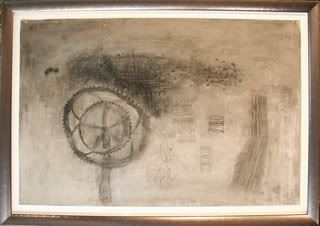 Despite the frequent evolution, Reifler has two constant tenets. One is a fierce investigation of materials, in which she experiments and figures out how to use them. The second is a mischievous approach to content, in which the artist playfully tests the boundaries of her subject matter: the intersection of simple biological, cellular, and mechanical forms. In both cases, when Reifler gains a sense of mastery, her work becomes stale. An unfair paradox, this restless search serves her well, bringing an unselfconscious rawness to the work that is integral to their success.
In the case of clay-coated paper and India ink, it takes on a rich metallic look, almost like weathered steel, and suggests solidity and age. And, unlike an oil painting, you can't erase. Choosing a material that didn't allow her to be indecisive dramatically affected her work, one of many 'happy accidents' that Reifler accepts and allows.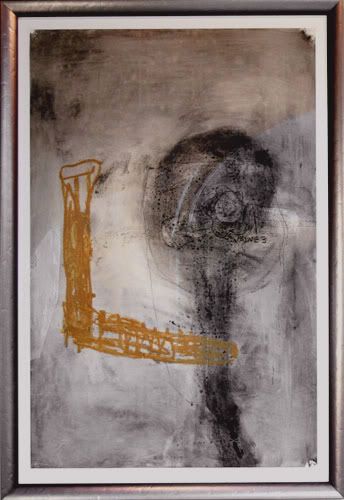 A whole new world had opened up. For Dana's MFA thesis exhibition at MICA, she exhibited large cut paper works and her first-ever installation. It looked like hundreds of metallic cartoon eyelashes, floating in a swarm, crawling up the wall. Reifler has had the opportunity to reassemble this modular piece at McDaniel College in Maryland and at Wake Forrest in North Carolina, each time completely different, in order to fit the surroundings.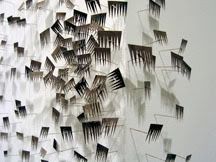 Continuing to work with organic and mathematic structures, vaguely suggesting microbial life, simple plant forms, and, surprisingly, architecture, Reifler has since moved on to her newest body of work. In "Dana Reifler: The Rough and the Smooth" a solo show at Villa Julie College, Reifler has once again undergone a transformation, working with architectural materials rather than traditional art supplies, exploring "where natural forms start and mechanical structures start."
I watched her make these works in our studio. I have to admit, I thought she was crazy. "I made a wall!" she announced one day, beaming. Then she proceeded to hack into it, cutting out odd-shaped hunks of drywall, building on and in these surfaces. Contrasting these lumpy, drywall paste chunks with linear cut paper systems and structures, often floating them above the surface on tiny pins, tiny microcosms emerged. These works are odd, experimental, unsure, and risky. One day I asked her how she decided when one was finished. She thought a minute and replied, "When I find a connection between different parts that I didn't expect to find."
This is why I like this artist and her work so much. There's an attitude and approach that is both intelligent and curious, without an ego interfering. "It's like a game," she admits. "I allow myself only a few materials and options, and then see how many ways I can use them." I, myself, struggle to balance an intuitive approach to art making with a levelheaded clarity, but Dana makes this paradox seem possible. She constantly challenges herself with new materials, new problems, and keeps things interesting.
Dana Reifler has several new projects on the horizon, including an exhibit at Gallery Imperato next fall and a solo show at McDaniel college next spring. I have no idea what to expect next, but am certain to be surprised, challenged, tickled, and moved by whatever the next incarnation is.
Note: This review/interview was written for Gutter Magazine's June Issue. It will be coming out next month in that format, probably better edited, too, with accompanying photos by GM Giordano that promise to be spectacular. www.guttermagazine.com