by Don Cook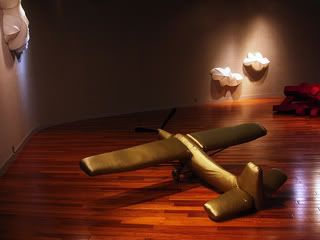 Laura Shults' work always rekindles one of my earliest memories. I'm four years old, and in Washington, DC, gaping up at "The Spirit of St. Louis," that little silver aircraft that Lindbergh piloted solo across the Atlantic. But in my memory the tiny plane isn't competing with a bright, new loft full of space capsules, jets, and antique fighters; the Air & Space Museum doesn't exist yet, and "The Spirit of St. Louis" is suspended, solitary and serene, within the dark vault of the old Smithsonian building. It's a wonder of the heavenly future-past lodged within a vaulted Victorian space – and it's this otherworldly aspect which imprints the scene onto my memory. And it's a similar disquietude of apparitional presence and eerie conjunction that sparks the very best of Laura Shults' sculptures.
In conversations about her work – particularly the aircraft imagery that has become central to her production – Shults is often evasive about her sources, motivations, or any supporting theoretical apparatus. She can be a crackerjack, methodical builder, who, at the same time is very intuitive and sketchy about how she actually arrives at her inspiration. One thing has been forcefully evident in her best work from the very beginning – an uncanny ability to infuse compelling human attributes into her strange aircraft forms. Her most successful planes are not merely visual exercises that play with a familiar form – at their most engaging they are laden, forlorn, flamboyant, or stoic. Several years ago she exhibited a lead plane sculpture at ArtScape that was too desperately heavy to struggle aloft, but flew straight into the heart – stout, dull, and listlessly spinning its undersized propeller, this woefully earth-bound "character" was the embodiment of a longing to soar that never would be realized. This remarkable little plane had that perfect pitch of comedy and pathos that is visible in the performance of a superb clown – or a character from Samuel Beckett.
In her latest exhibition – in the gallery and atrium of Howard Community College's Performing Arts Center, in Columbia, MD, through July 29 – there's a brand new companion to the earlier lead plane. It's a pudgy, wilting biplane, constructed of red foam; an inept Red Baron melting into a puddle of its own fury and frustration, while two more stable planes – one of rustic barn wood, the other a gold inflatable – stand indifferently, almost haughtily, nearby.
With this exhibit at Howard Community College, Laura Shults has finally found the space that her works deserve. In addition to her aircraft sculptures, Shults has also recently been making "cloud" works fabricated from a thin, flexible steel framework covered with a white, translucent skin. These cloud forms, which are realized as both hanging 3-D sculptures, as well as wall reliefs, are less personable than the aircraft sculptures, communicating instead a formal lyrical lightness and lofty elegance. Unfortunately, in a conventional white box gallery, these "clouds," can also look a bit like stylish, over-the-top lanterns or wall sconces – so the "cloud read" can be a bit ambiguous. But in this current exhibit there's no ambiguity whatsoever – here the clouds float tantalizingly before the eye, occupying a real sky-like breadth of vision. What makes this possible is the very odd nature of the gallery space itself.


Tucked in a pocket within the larger performing arts center, the gallery's high, muted gray walls are curvilinear, and actually "embrace" the space, so that the effect can be – given the right sort of work – at once both generous and womb-like. And the performance center's atrium offers yet another opportunity for Shults' work to quite literally soar. Within the atrium's vast loft space the artist has suspended a number of hanging clouds, and installed a large white biplane among them; it's an Air & Space Museum of Laura Shults' very own – and a visual treat for any viewer. Howard Community College is in the midst of Columbia, a sprawling "insider" town, whose way-finding clues for the "outsider" visitor leave a lot to be desired – but there's plenty of green space, even on the college campus, so pack a picnic lunch, and go see Laura Shults' little sky of wonders.