Locus Magazine Issue 3 Release Party: Saturday, June 23, 8p, at Load of Fun
Locus Magazine will release its much-anticipated Issue 3 on Saturday, June 23, 2007 with another great party. The release party will take place at Load of Fun Studios, located at 120 W. North Avenue, in Baltimore's Station North Arts District.
Issue 3 will feature artwork by: Christine Buckton Tillman, Jon MacNair, Rebecca Nagle, Adriane SantaCroce, Justin Storms, RL Tillman, and Christine Tran, and texts by Emily Hauver, Emily Hunter, and Ding Ren. An eclectic mix, Locus spotlights seven Baltimore artists, including text and interviews for an in-depth examination of emerging contemporary art in Baltimore. Locus continues its investigation into the magazine format in issue 3, with a special project by artist RL Tillman.
Issue 3 is to be printed in a limited, hand-numbered edition of 300. Magazines will be first available at the Release Party on June 23, and available on our website and at Atomic Pop beginning June 24, 2007.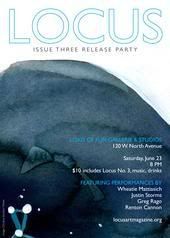 Musicians and performers for the event are to be announced soon. A $10 suggested donation at the door covers admission to the event and a copy of Locus Magazine issue 3.