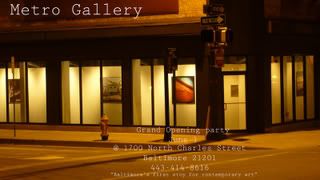 Metro Gallery opened on Friday June 1, with "Pink Lung Trial" featuring the work of painters Seth Goodman and Greg McLemore.
I am always annoyed when I go to an art exhibit and a cover charge, I mean, a 'recomended donation' is extracted at the door. The donation jar had a huge sticker advertising art programs for school children so of course I coughed up the three bucks, although I assumed the cash was to pay the musical entertainment for the night. There's a fine line here in Baltimore between commercial art space and multipurpose alt-music party-place. This is a fun thing, but doesn't necessarily encourage art sales. It wasn't clear to me which kind of space the Metro Gallery aims to be.
I got there as early as 7:30 and, by that time, a huge crush of people had already assembled. Metro is in a great location – right across from the Charles Theatre, a sprawling huge-windowed spot right on the corner, at 1700 N.Charles Street. Every Baltimore art hipster turned out for this show and stayed there well into the night, enjoying sounds from Birds Fly South, Baby Asparin, DJ L-Evated, Two if by Sea, and more.
Painter Seth Goodman's monolithic canvasses dominated the visual offerings in the first exhibit, spinning eclectic narratives out of a wide variety of pop cultural and personal symbols. Given the thickness of the crowd, it was difficult to give these works the attention they require to decipher.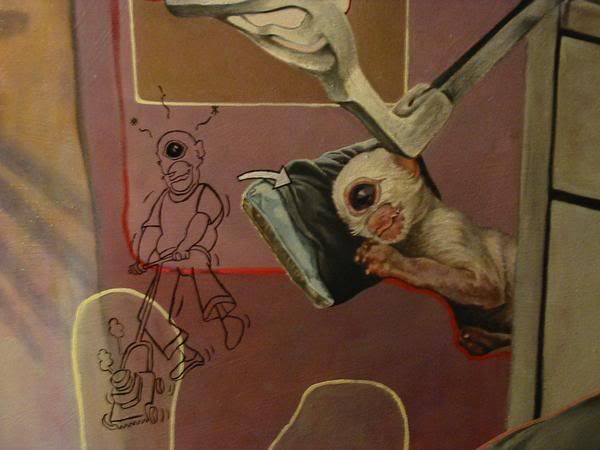 Goodman
At one point, stuck next to the only two men in suits and ties, I got asked the question, well, questions, you try to avoid at these things. One man gestured to the most provocative canvas, in which a naked woman was depicted lying on a gynecological table, legs spread, apparently having an exam. There were Michalengelo-esque draperies painted around the edges of the canvas, and a space alien figure mowing a lawn, while a large cartoon hand loudly pointed at the vagina. 'What does this painting mean, anyway?'the man asked me. 'Are you an artist? Do you understand this?'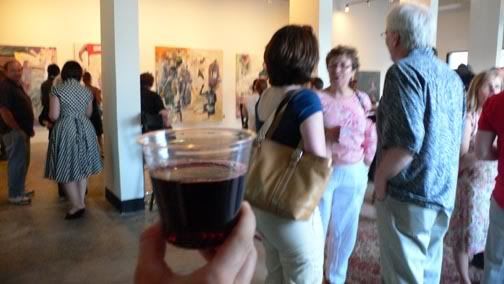 After a glass of wine, my art criticism is less eloquent than at other times, so I lamely replied, 'I think these kinds of works take a lot of time to figure out… they need to evolve over time, and you would need to look at it alot, or for a long time, to figure out it's meaning.' The man rolled his eyes and walked away.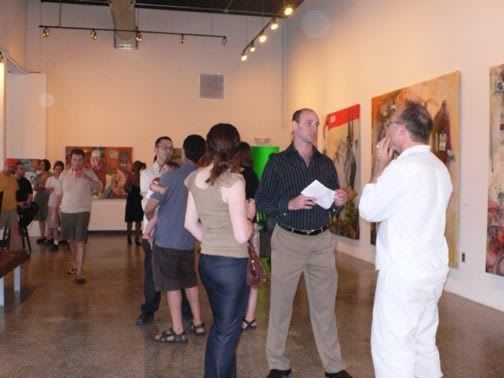 Both Goodman and McLemore rely on twisted narratives and personal symbolism in their work, alluding to arcane and odd notions, not easily decipherable, especially in the middle of a noisy party. These are definitely not the kind of works you would purchase to match the home decor. Both require reading and consideration and, at first glance, can be visually aggressive or offensive. At any rate, both offer challenging and intelligent visual puzzles, under a skin of skilled paint handling.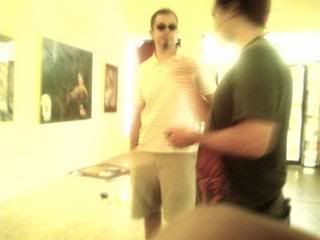 The Metro Gallery is a welcome addition to Baltimore's growing art scene and is definitely a bright new destination for interaction and culture. If it is going to be taken seriously as an art gallery, it has gone halfway there by selecting competent and challenging artists to feature. However, in this city full of half-assed art projects, it needs to go a step further: a clear mission, a website (although it does have a myspace page), and hopefully no more cover charges to pay, in order to look at and possibly, even, purchase a piece of art.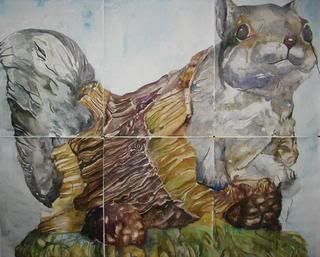 McLemore