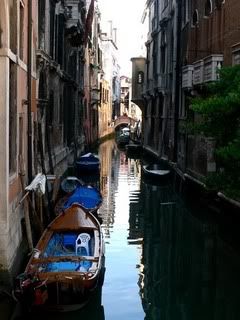 you can't take a bad photo in venice.
The United States Pavillion: Felix Gonzalez-Torres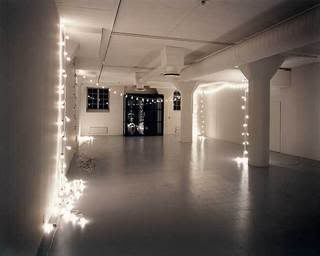 I find it ironic that that this year's US representative at the Biennale is a gay man, born in Cuba and raised in Puerto Rico, who died in 1996 of AIDS. Maybe this is a political smoke screen? A sign that, despite our imperialistic war-mongering, we really do value diversity and respect different lifestyles and backgrounds? Maybe it is a statement that the US Art community is immune to the conservative politics circulating in this country? Who knows? Gonzalez-Torres was also included in the "Think with the Senses" show. Many believe that his work has grown more influential since his death.

Felix Gonzalez-Torres, US Representative – patrons taking home unlimited numbers of posters
Decidedly political, yet subtle at the same time, I think Gonzalez-Torres would be amused by his inclusion at this exhibit. "The most successful of all political moves," he once said, "are ones that don't appear to be 'political.' "
The works in this exhibit read like the artist's 'greatest hits' – a mound of candy, stacks of paper, and strings of light bulbs.
One room contained a burial mound of gray torpedo-shaped candies, which viewers were encouraged to take. The unappetizing color of the candy suggested death or decomposition and, by taking it with you or ingesting it as food, the viewer becomes complicit in this activity, spreading it like a disease.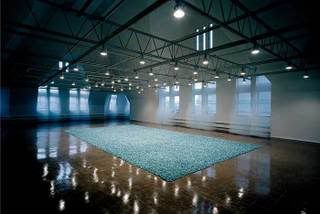 Several paper stacks were more obviously political. One stack with a generic photo frame, blank in the middle, is called "Untitled" (Republican Years) from 1992. Gonzalez-Torres thought of these stacks as 'anti-monuments,' and each had a recomended height, about knee high, to be replentished to, despite the numbers that people carried away. In another room, two other poster-sized paper stacks were stark white with tiny, short phrases typed in the centers. One said 'Happy Memorial Day' and other said 'Happy Veteran's Day.' Apparently, this is commentary on the United States transformation of historical holidays into shopping events. Viewers were provided with rubber bands, an encouragement to take away as many posters as they wanted.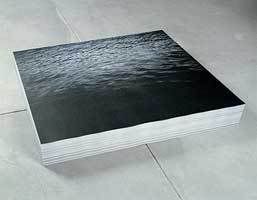 In all of these works, each is so simple that you are forced to read them on multiple levels: as simple objects, as objects of art, as a challenge to preconceived notions of art, and as a metaphor for death and depletion, in the age of AIDS, political turmoil, and global economies.
I almost missed the largest work in this exhibit – two large, joined, reflecting pools of water, made of white marble. There were small children putting their hands into it, cooling off, and it almost blended in to the front of the building. This piece is one of Gonzalez-Torres' doubles, like his paired clocks, in which togetherness and homosexuality is hinted at. This piece was designed while he was still alive, but created after his death. It was a powerful, quiet, and hard to understand, in the context of the other work, which is I think what the artist would have wanted.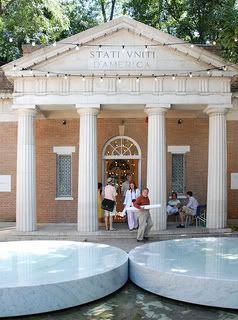 reflecting pools outside the US pavillion
Love and Loss: Emin and Calle turn personal turmoil into art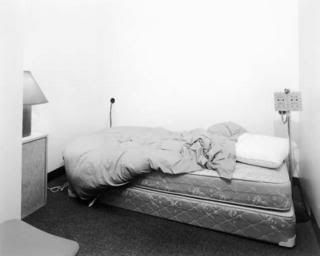 Twenty years before Tracy Emin was documenting the numerous men she slept with and stitching it onto the walls of a tent, French artist Sophie Calle was loaning out her bed. She asked strangers to sleep in it for one night, and then answer a series of personal questions.

Sophie Calle, France's representative (she was also included in the large group exhibition with another piece)
When a boyfriend dumped her by email, Sophie Calle asked 107 women to read it, interpret it, and react to it. The result is "Take care of yourself," which is how he ended his self-absorbed and insensitive letter. Rather than wallowing in grief, Sophie took his advice to heart – the best way to take care of herself was to make art out of the experience. Over two years, Calle photographed each of the 107 women reading the letter, and invited them to react to it, based on each's profession. A copy editor, with bold highlighter pen and footnotes, rips it apart gramatically. The letter had been translated into many different languages, including morse code and braile. The letter has been re-set into crossword, performed by an actress, and analyzed by a psychiatrist. There are several shots of a parrot reading the letter – I am guessing the woman in this case was an animal trainer or zookeeper?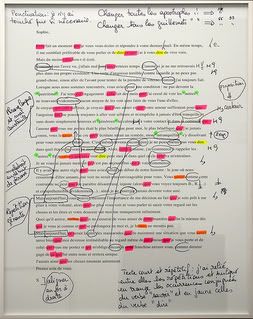 Like Warhol, the endless repetition and consistency has reduced a traumatic event into fodder. Instead of being tragic and depressing, "Take Care of Yourself" was amusing, clever, hilarious, and theraputic. There were huge amounts of women, and also men, in the pavillion, reading and laughing. In sharing her pain, I think the artist healed herself and also got the last laugh.

Sopie Calle "Take Care of Yourself"
For video footage of Calle reading the letter and shots from the pavillion, go to the Tate online at: http://www.tate.org.uk/
The Other Confessional Female: the UK's pavillion: Tracy Emin's "Borrowed Light"

British Artist Tracy Emin
The rumor I heard was that Tracy Emin was a last minute choice for the British committee. She's a loud mouthed party girl with a raw reputation. Upon being chosen, Emin went 100% high maintenance and insisted that the British Pavillion be completely rennovated – back to it's original colors, surfaces, and textures. The result is a light-filled and no-frills exhibit, much quieter than the Tracy Emin we've all heard about.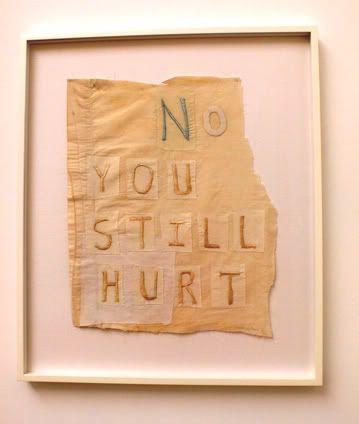 Some of the older works included in 'Borrowed Light' were Emin's quilts and neon pieces, in which her scrawled hand-written notes gleam on the wall.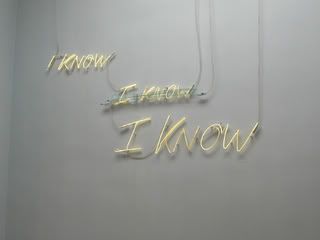 Tracy Emin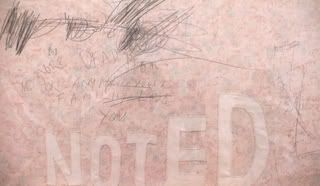 sewn details and pencil scribbles – detail from Tracy Emin
Other, more traditional works also filled the pavillion. Sixty or so small etchings, each in a tidy frame, lined several walls, and a series of larger, muted abstract paintings (The Abortion paintings, but it isn't obvious) fill much of the space. I'm not sure what to make of this new and improved, cleaned-up Emin. I miss the bad girl who almost lost the bid for the biennale because of an assault charge (a woman was hogging the bathroom at a party, Emin pounded on the door repeatedly and the next day was served assault charges for pulling the woman's hair – a charge Emin denied that was eventually dropped.).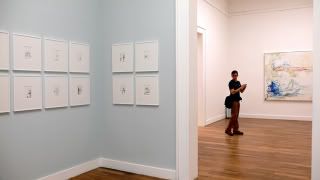 Tracy Emin – Great Britain's representative
According to Emin, 'I'm having a midlife crisis actually, and I'm just so confused at the moment about what I want for the rest of my life. Some people think if only they could have success with their career, everything would be all right, but it's not. When Isabella Blow died I thought, fucking hell, life is short. It was like a wake-up call. And I realised that I'm 43, I'm probably never going to have children – I would rather have my career than children – which puts me into a very different world to other women, and I intend to live in that world. Even though sex with Scott [her photographer boyfriend] is fantastic, I don't need it. Relationships are great but I don't know how good I am at them. I realised that being an artist is actually quite difficult and I am difficult, and I want to enjoy that difficulty and not feel threatened by it.'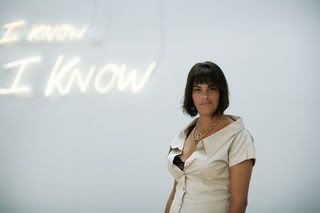 We'll have to wait and see if this mature, kinder, gentler Emin persists.

view of the Giardini – lots of shade, lots of art… too much.
The Switzerland Pavillion: "Color Distance" – Christine Streuli and Yves Netzhammer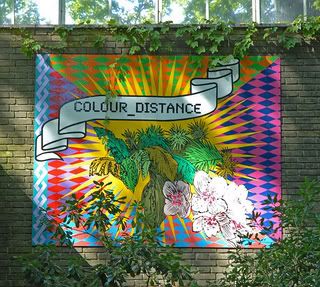 The Swiss surprised me. Pretty paintings with no political undertones. Both artists filled huge wall spaces with their flat, decorative, and graphic imagery. I was most taken with Christine Streuli's work, though. It was obnoxious and bold, lyrical and pretty. In Streuli's world of stencils, screen printing, and decorative painting techniques, the wall is as much a work of art as the canvasses themselves. The walls were so garish, the paintings merged with them. I tried to imagine these paintings in a different context, on white museum walls, but it was impossible. I appreciated the flatness of these works and the traditional approach to painting that is often difficult to find in a post-modern world.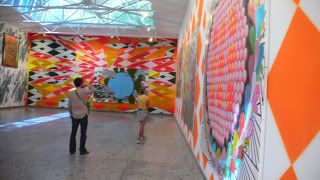 Switzerland Pavillion: Paintings by Christine Streuli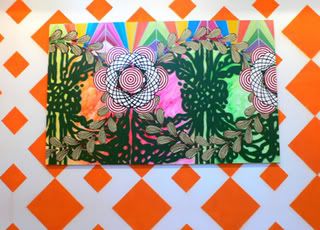 Switzerland
There was one wall of floral prints, each framed and displayed in two vertical rows, that was weaker than the rest. These pieces were thinner, with less layers than the other works, possibly because they were on paper and under glass. Overall, I enjoyed the color, rhythm, movement, and 'commercial' kinds of imagery in these works, as well as their willingness to go on walls as an 'underpainting' or 'surroundpainting' for the works on canvas.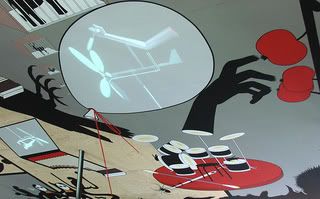 Netzhammer's painting on the ceiling with video projections within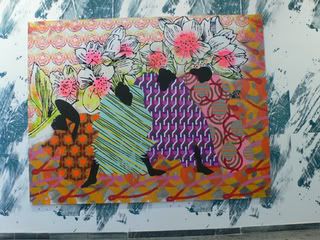 Switzerland's Christine Streuli
Russia Pavillion: "Click I Hope" – High Tech with a Demanding Attention Span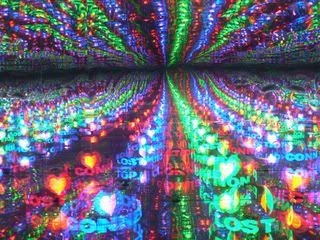 "Connection Lost" – Image and Text bombardment in the Russia Pavillion
Click I Hope, the Russian pavilion's group exhibition explores what it means to live in an age of constant media bombardment and perpetual connectivity through the internet. This is a group exhibition featuring work by artists including AES+F, Andrey Bartenev, Arseny Mescheryakov, Julia Milner, Alexander Ponomarev. Alexander Pomomarev and Arseny Mescheryakov.

Tondi still from "Last Riot"
I watched the video "Last Riot," approximately 20 minutes in duration, two times. Projected on three huge screens, with music so loud you felt it on your insides, this video demanded total immersion from it's viewers and, through visual complexity and luscious perfection, got it. This screening room was absolutely packed and noone said a word. A futuristic world, of animated oil rigs and windmills, of tanks and trucks, planes and trains, contrasted every few minutes with child models wearing camoflauge. Each model had some sort of weapon: an ornate sword, a golf club, a baseball bat, and used it to threaten an opponent. This mock violence was set to industrial sounding techno and wavered back and forth – forwards and backwards – in a romantic kind of dance.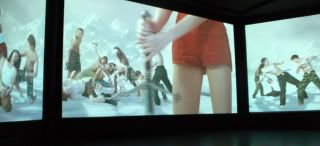 Russia Pavillion: "The Last Riot" Video and Animation in IMAX
The raw beauty of the models, their perfect skin in all different shades of browns and tans, contrasted with their pristine mountaintop setting. It looked like a Versace photo shoot mixed with a Botticelli painting, beautiful and calm, and also violent without ever shedding a drop of blood. The fact that children were used in this video piece was pointed and the fact that they engaged in violence with a distant look in their eyes, no passion or anger, created this surreal (possibly media influenced) view on torture, confinement, and war. The relationship between technology, energy, fuel, and war – and its effect on innocent people – was illustrated here with such clarity and elegance that I couldn't leave. The whole piece was breathtakingly gorgeous -not unlike USSR propaganda art, but subverted with a modern political message.

PR on this exhibit from the AES and AES+F groups: "The virtual world generated by the real world of the past twentieth century as the organism coming from a test-tube, expands, leaving its borders and grasping new zones, absorbs its founders and mutates in something absolutely new. In this new world the real wars look like a game on www.americasarmy.com, and prison tortures appear sadistic exercises of modern valkyrias. Technologies and materials transform the artificial environment and techniques into a fantasy landscape of the new epos. This paradise also is a mutated world with frozen time where all past epoch the neighbor with the future, where inhabitants lose their sex, and become closer to angels. The world, where any most severe, vague or erotic imagination is natural in the fake unsteady 3D perspective. The heroes of new epos have only one identity, the identity of the rebel of last riot. The last riot , where all are fighting against all and against themselves, where no difference exists any more between victim and aggressor, male and female. This world celebrates the end of ideology, history and ethic. "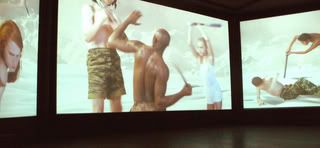 Russia – another still from video
to see more, go to http://www.aes-group.org/video.asp
Spanish Pavillion – Excellent Sausage?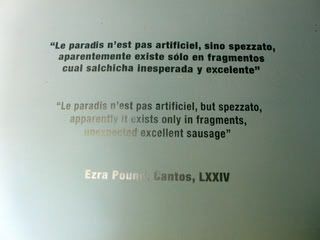 Opening quote in the Spain Pavillion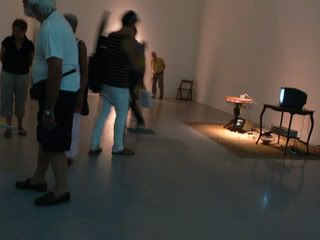 Spain Pavillion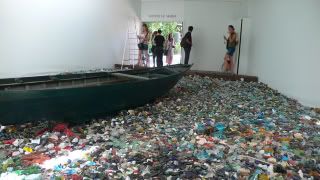 Nordic Pavillion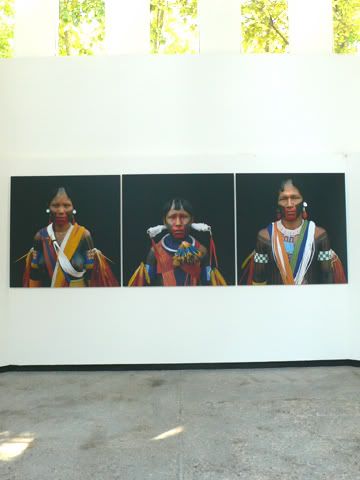 photos of indigenous American people in the Venezuela Pavillion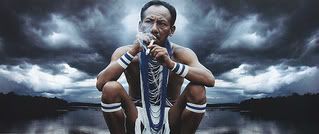 Venezuela pavillion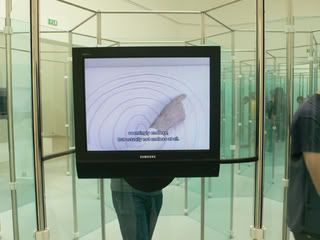 Belgian Pavillion

random graffiti in venice.