The Venice Biennale 2007
by Cara Ober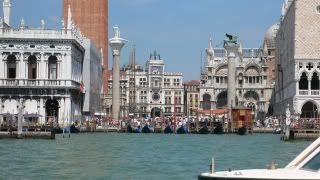 This is the view from the bus I took in Venice to the Giardini, where most of the Venice Bienale was exhibited. In Venice, the bus is a boat, slightly crowded, but full of spectacular views. After almost getting fined 30 Euro for not buying a bus ticket (ouch) I arrived, all in once piece, ready to 'think with my senses and feel with my mind.' This year's curator, Robert Storr, chose this right brained/left brained theme, which was vague enough to include whoever he wanted for the centerpiece of the biennale – a 'who's who' group exhibition of current art superstars.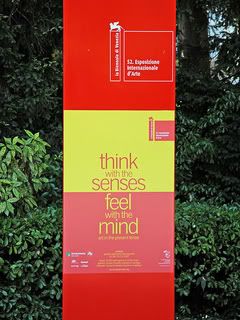 "Art is now, as it has always been, the means by which humans are made aware of the whole of their being," says curator/director Robert Storr in his exhibition essay. So what was it all about? Think with the Senses, Feel with the Mind? It seems a bit obvious. Doesn't all of the best art touch your intellect and your heart? Don't the names we remember from art history challenge preconceived notions, fool the senses, and, in a sense, create magic? Because of, or possibly, in spite of the theme, this exhibition was a lot more interesting than I expected.
There were generous heapings of famous names from glossy art magazines and museums: Sigmar Polke, Bruce Nauman, Louise Bourgeous, Kara Walker, Sol LeWitt, Gerhard Richter, Jenny Holzer, … The theme was loose enough to bring them all together into something cohesive, especially on an aesthetic and personal level. There was a refreshing lack of 'shock value' and politics, instead, works in which the artists simply expressed themselves. It was also, surprisingly, chock full of paintings. Doesn't this year belong to photography? I was hard pressed to find any.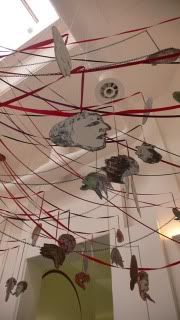 Nancy Spero
After entering the pavillion, Nancy Spero's maypole-like mobile, a web of red ribbons and cartoon heads, welcomed us. Decidedly low tech, this piece had a childlike and emotive quality that made a strong impression. From there, we entered Dan Perjovischi's chalkboard painted hallway, with more childlike cartooning and text, a humorous and readable take on the world today.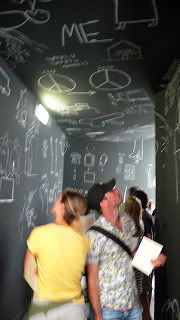 Dan Perjovischi
Relationships, energy, war, the economy… all of these topics and more swirled around in a chalkboard soup of energy and cynical wit. Lots of people crowded into this hallway and most stayed put, reading everything.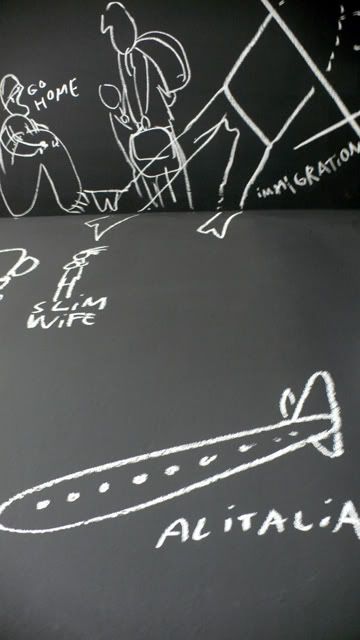 Dan Perjovischi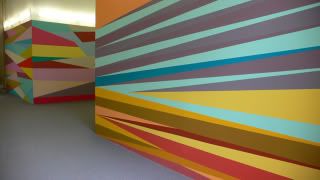 Odili Donald Odita
Another work painted directly on the walls, this piece was striking and playful. It reminded me of traditional wall painting from African homes. Odita was born in Nigeria and now lives and works in New York. The combinations of color and shape made it one of my favorites.

through Odita to Sigmar Polke's ginormous canvasses
The six or seven paintings by Polke were monumental and impressive. They had to be at least 20 feet tall, possibly larger. Their surfaces were dark, shiny maroon and metallics and had the effect of oil floating on water. The imagery was murky, though, and I wasn't intrigued enough to give them enough time to really read them. But who has time? The biennale is HUGE. There's not enough time to see everyting, so …

Izumi Kato
I moved on to Japanese artist Izumi Kato's paintings. These were incredibly simple but odd in a way that intrigued me. Despite the simplicity of the compositions, the color choices were full of surprises. Why would anyone put purple next to puke green, royal blue, and brick red? Who were these children and why were they depicted over and over, with oversized heads and and genitals punctuated by color changes? They seemed decidedly personal, intensely self-absorbed, and clear in their mission. Even the small drawings, displayed casually on paper with the notebook holes along the side, oozed with deliberate self-indulgence. Izumi delights in making images so simple they are almost naughty. Again, a childlike and playful aesthetic was reinforced.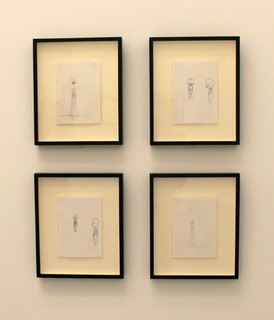 Izumi Kato

in the Richter Room…
Similar to the Polke room, Gerhard Richter included monumental canvasses, about six or seven, and filled the room. All the canvasses included were abstract and appeared to be a part of the same series. The same color palette filled the room and one canvas seemed as good or bad as the next one. Personally, I think Richter is a skilled painter, but I prefer his works when his photorealist paintings sit side by side with the abstract ones. To me, the contrast between the two styles, which made him famous, is the most interesting thing about his work, not the individual paintings.

detail from one of Cheri Samba's paintings
Nearby, Cheri Samba, from the Democratic Republic of Congo, filled the room with equally large paintings, full of African-inspired colors and political messages. Almost like Egyptian wall carvings, simplified figures of varying sizes struggled in flat and realisticly depicted spaces. Text, emblems, flags, and other symbols also floated and covered these bright and busy canvasses. War, money, greed, fear, and relationships are all dissected under Samba's idealistic eye, and, most often, humans are their own worst enemies. This room was full of engaged readers and lookers. A crowd lingered, reading and pointing out recognizeable symbols, as if they were maps. Lots of people discussed the individual paintings and worked to put the meaning puzzle together, a sign of successful work. For me, these works were predictable and thin, as far as paintings go, but I appreciated the enthusiasm they gathered.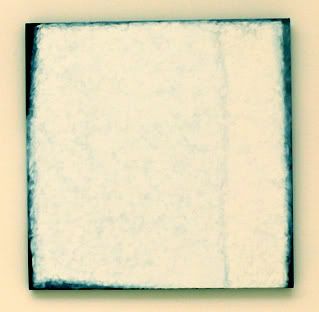 Robert Ryman (duh)
Robert Ryman got a full room of white paintings. I lingered here for some time, going back and forth between canvasses, noting small differences. I was the only one in this room. People kept walking through but nobody stayed. I love Ryman's paintings, but am not exactly sure why. I was thrilled to notice that, on one, he let the white paint cross over the front of the canvas to the side, and on another, the way whites gradated in one corner. These paintings are about painting and about the color white. Ryman has spent an entire career on this. As a result, these canvasses are stoic without being boring, are clear without being resolved, and know what they are about, without needing to explain it to us.

another Ryman
Between Ryman and Santo, there was a room of Elizabeth Murray paintings. They were gaudy and flat, all on cartoon-shaped canvasses. I hated them. Also, adjoining rooms for Susan Rothenberg and Bruce Nauman, husband and wife. How cute. Nauman had created two 'fountains' which weren't running, so possibly that is why they were awful. Each consisted of a utility sink, plaster cast of a face, and a plastic tube. They were utterly boring. Rothenberg's large paintings were equally uninteresting. She's paintings horses again, and also dogs, in a dirty pink haze that chokes the life out of her 'characters.' I think you can tell when an artist is bored. The show would have been bettter without these three.

Iran do Espirito Santo
Iran do Espirito Santo is a Brazilian artist who's room was simple and stunning. It included three different works, but all three enriched the others in a seamless installation. On one white wall, there was a gradation of painted 'bricks' from dark gray to almost white. Directly across from it, another wall painting of equal size made my eyes vibrate. Black lines in the pattern of a wire fence caused my pupils to look through it, lifting the black lines into the air in front of the wall. On the floor in between, three large, black, granite 'windows' reflected the wall paintings. Each window was cracked and, in each, a bird-shaped silhouette was left empty. This empty space anchored the windows, in a way that the walls didn't, so you didn't fall 'through' them. Santo used technical aspects of 'op-art' but her works are about boundaries – fences, walls, windows – and also getting through them.

Santo
Another installation artist in this group show is Giovanni Anselmo. His granite pieces and dirt mound also reinforce ideas of boundaries and space, but less effectively than Santo.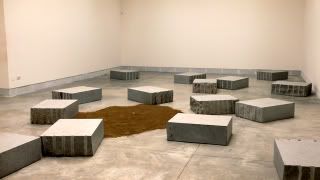 Giovanni Anselmo
I was exhausted by the huge size of this exhibition – there were over one hundred artists included and a wide diversity of backgrounds, ages, and nationalities. It is also important to note that each artist got a whole room to themselves. Some rooms were larger than others, but, unlike a group show where each artist includes one piece, in this exhibit, each artist included an entire series or body of work. This is a rare opportunity, since museums normally include only one of each in their exhibitions. It allowed viewers to carefully see the artist's current work with a depth and richness that is only found in solo exhibitions, without being a retrospective. For the most part, the works were new and had the energy of the freshly made – possibly made specifically for this exhibit, and often taking risks. Overall, it featured living artists in their prime, and the emphasis of personal awareness and expression over the theoretical was engaging and approachable.


The Italia Pavillion, which housed a little over half of the group show curated by Robert Storr.
I haven't even started on the rest of the Giardini yet. So much to see! There were 57 other individual exhibitions, each one for a different participating country or group of countries. More on this later…