September 11 – October 13, 2007
Friday, September 28: Gallery Talk 6pm / Reception 7pm
Participating curators include: Rachel Bradley, Dylan Hay, and the curatorial team of Bryan Leister and Susan Serafin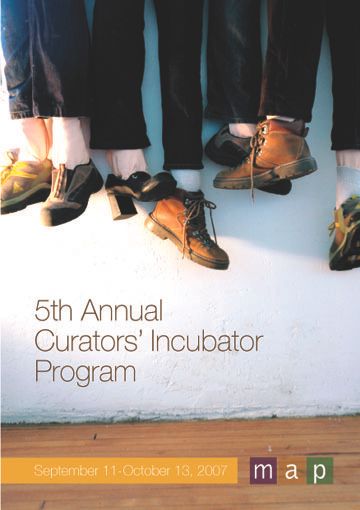 This year's Curators' Incubator Exhibitions:
Objects of Adoration curated by Rachel Bradley
Participating Artists include: Marc Burckhardt, Luca Dipierro, John Grider, Chehalis Hegner, Nicholas Kashian

mural at MAP by John Grider, part of 'Adoration'
Memory Works curated by Dylan Hay
Participating Artists include: Miranda Bushey, Dietrich-Olivier Delrieu-Schulze, Julia Dzwonkoski, Harrell Fletcher, Chiara Giovando, Michael Scoggins, Brian Willmont
anti-matter: recontextualizing the material curated by Bryan Leister and Susan K. Serafin
Participating Artists include: Suzanna Fields, Helen Frederick, Alberto Gaitán, Morgan Kennedy, Susan Noyes, Jennie Thwing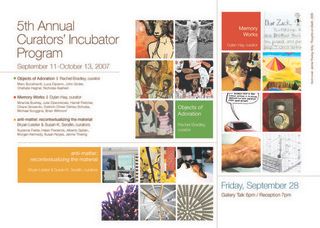 Now in its fifth year, the Curators' Incubator program provides new and emerging curators with an opportunity to curate an exhibition at MAP. Through a competitive two-phase application process, a small number of curators are selected each year to work with members of MAP's Program Advisory Committee and strengthen their proposals in preparation for an exhibition within MAP's galleries. Emerging curators are assisted in all major facets of the curatorial process, including receiving mentorship in their writing as they prepare for publication in a Curators' Incubator catalogue.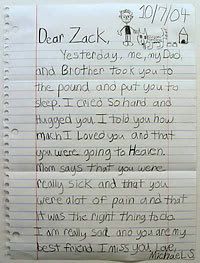 Michael Scoggins, Dear Zack, Courtesy of Salt Works Gallery, Atlanta, GA