In collaboration with The Canyon Suite: New Paintings by Jack Livingston, please join us for LOOSE CANNON: A Textual Event to Evoke the Myth of the West, with Guitars.
Lauren Bender / Adam Good / Chris Mason / Ryan Walker / Rupert Wondolowski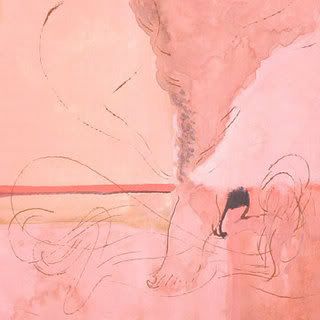 Laurel. Gouache on Paper. 5×5 inches, approx. (my personal favorite of the show)
Saturday, 10/6, 5pm
Minas Gallery
815 W. 36th St
Baltimore, MD 21211
For info on Jack's exhibition:
http://www.minasgalleryandboutique.com/currentshow.html
If you haven't had a chance to see the show, this is a good time to do it. Or just go in on an off day, when the store is open and quiet, to experience these thoughtful little pieces. I went to the opening, for just a split second or two, and it was jam-packed in the small upstairs gallery space. Not only was the show crowded with people, it was crowded with artwork – rows and rows of small paintings in rectangular frames, making for an overwhelming experience.
Works were priced affordably, so the show was also crowded with red dots. My favorite piece in the show, pictured above, was already sold when I got there. Bummer.
There's a looseness and a delicacy to each work, which straddle the line between figuration, decoration, and abstraction. Layers of whispery line float above muted, earthy color, like hazy memories of times-gone-by. Certain pieces are clearer than others, especially when complimentary colors are paired or strong blacks are used. This show could stand some editing, but overall, the body of work functions as a surrounding installation, reading as a whole because of their consistency in color.
Sentimentality, nostalgia, and the piecing together of one's memories is a huge cliche in the art world. This type of work is often sloppily undertaken, as if the poignancy of the memories themselves, not the craft, will somehow create visually successful works. The distance and purposeful withholding of autobiographical detail in The Canyon Suite, in favor of a specific system of color and line, allows the viewer to experience Livingston's memories, but also to add in their own associations. The subtle relationships cultivated in these works, through deliberate revelation and concealment, are their success.
– Cara Ober