At the Randall Scott Gallery:
October 27th-December 8th, 2007
artists reception: October 27th 7pm-9pm
Lori Nix: The City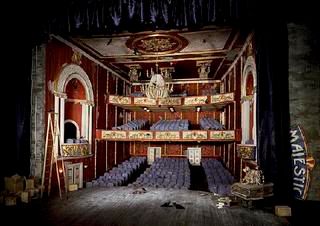 In a recent artist talk, Brooklyn based photographer, Lori Nix revealed she has a God complex. The creation and destruction of a world she creates from scratch electrifies her. Nix, having grown up in rural Kansas, is no stranger to disaster. She witnessed her surroundings continually altered by both acts of nature and human error. Nix creates meticulous dioramas handcrafted from plaster, cardboard, and styrofoam and detailed with found objects, such as, fur, plants, and cat whiskers. These scale models, which take upwards of 4 months to produce, are carefully photographed using an 8×10″ large format camera. Eventually the models are broken apart and stuffed into garbage bags to be hauled away (enter the God Complex). What is produced is the artifact, the photograph, a document of an occurrence that has not taken place, but from the illusion of truth apparent in in the image, may have.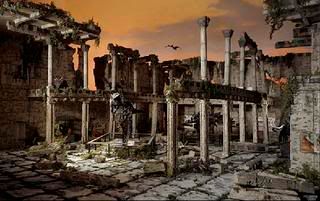 Nix's vision of a post-apocalyptic city is both haunting and alluring. Her large scale, deeply hued color photographs (which are not digitally manufactured) resonate in documentary "realness" while simultaneously appearing too cinematic to be believed. The play between illusion and truth, accentuated by depth of focus and a stunning attention to detail cause a suspension of belief in the viewer. In "The City", Nix presents a world of decay and ruin. Sites chosen specifically for their cultural significance; museums, aquariums, theatres, vacuum showrooms, all fading into the history they represent, are overcome by nature and the elements.
Dane Picard: A Herd of Horses Hands
Herd of Horses Hands is the newest video in the Hands Mosaic Project. While only seconds long (on endless loop), it is made up of thousands of individual digital photographs-composed frames made up of single hand gestures. These gestures become the fantastic forms of animals in amazing performances seen in nature. The Hands Mosaic Project can be seen as a commentary on man's need to control nature, or to understand it, or to imitate it, or to simply to look at it and appreciate an animal in motion.
Amy Stein: Halloween in Harlem
In the past several years Amy Stein has put together several outstanding bodies of work that have begun to build her a reputation as being one of the premier emerging photographic talents in the United States. Her series "Domesticated" is being released in a book in 2008. She will be showing her series "Stranded" in April at RSG.Her attention to her subjects, her constant work ethic, and the depth she brings her characterizations are both haunting, playful and rich in American culture.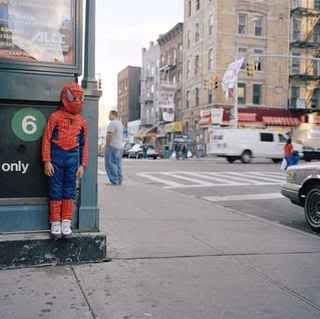 In her "Halloween in Harlem" series, Stein set out to photograph neighborhood kids in their costumes and how they interacted with their environment. Her subjects acted out their parts, Superman, affixed to a ledge, peers out over the mean streets of Manhattan looking to fight crime. A Princess, decked out in red dress and tiara, stands before a sign in a shop window declaring they accept credit cards. And a lone frog, matches heights with a fire hydrant, dwarfed by the buildings above.
Randall Scott Gallery
1326 14th Street NW
Washington, D.C. 20005
www.randallscottgallery.com
_____________________________________
at Civillian Art Projects: OPENING FRIDAY, NOVEMBER 2, 2007 AT 7PM.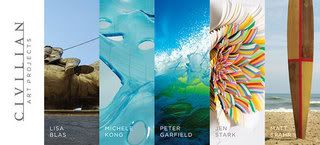 FRONT GALLERY:Lisa Blas, Peter Garfield, Michele Kong, Jen Stark
Waves
This group exhibition features photographs depicting an obsessive crush on military generals by Lisa Blas, 4′ by 5′ photographs of waves by Peter Garfield, a formal take on glass and other wave like forms by Michele Kong, and undulating rainbow colored paper sculpture and drawings by Jen Stark.
PROJECT SPACE: Matthew Spahr
big guns, hollow shields and other bouyant desires
A site-specific, mixed-media installation by Richmond, VA based artist Matthew Spahr exploring surf culture, secret societies and nautical history as modes for developing masculine identity.
OPENING RECEPTION
Friday, November 2, 2007, 7 to 9pm
Show Runs Nov 2 – Dec 15, 2007
Exhibition Hours: Wednesday – Saturday, 2 to 6pm and by appointment
info@civilianartprojects.com
Civilian Art Projects
406 7th Street NW, Third Floor
Washington DC
(202) 202-347-0022
___________________________________
Project 4 presents :
BEAU CHAMBERLAIN: This is Forever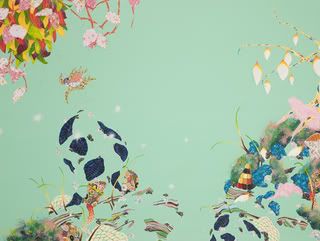 October 27 – December 2, 2007
Opening reception: Saturday, October 27, 2007 – 6:00 – 8:30pm
Project 4 presents "This Is Forever", a solo exhibition featuring intricate paintings and a site-specific installation by Beau Chamberlain.
Inspired by the ability of nature to attract, camouflage, and repel, Beau Chamberlain's precise paintings hover between abstraction and figuration. Beginning with elusive imagery from botany and entomology, Chamberlain embraces crossovers between divergent biological categories, the pliable and resistant, from one ecosystem to another. Evoking lunar landings, molecular imaging and Chinese landscape painting, Chamberlain's work explores mutation, imitation and definability in seemingly serene environments in which time, place and scale remain undefined.
Chamberlain elaborates, "The titles give my paintings a loose narrative structure that allows the viewer to piece together their interpretation of the scenes upon entering these environments unaware of whether they have just missed something or whether they are in the middle of some future action about to take place. At first, plant and animal life seem to be in a state of suspended animation, unable to break free of the vibrant, reverberating color of their atmosphere, but, at closer examination, the seemingly static landscapes reveal themselves: they are teeming with life. Undulating organic forms float through space, creating tension with one another and their environment. Hollow cocoons, empty trees and headless serpents are some of the recurring symbols of life and death, strength and instability, predator and prey. Nothing in these environments can be taken at face value."
Beau Chamberlain received his BFA from Pratt Institute in 2003. His work has been presented in exhibitions at Jessica Murray Projects, New York, Mogadishni Gallery in Copenhagen. Chamberlain lives and works in Brooklyn, NY.
Project 4
Contact: 903 U Street NW Washington DC 20001
tel: 202 232 4340 fax: 202 232 4341
info@project4gallery.com
Website: http://www.project4gallery.com/
Hours: Wednesday – Friday 2:00 – 6:00 pm, Saturday noon – 6:00 pm and by appointment.
——————————————
Which Came First? Drawing Conclusions:
Kilnformed Glass by Kari Minnick
A Hillyer Art Space Exhibition
November 2, 2007- December 20, 2007 / Opening Reception: Friday, November 2nd, 2007, 6pm to 8pm
Which Came First? Drawing Conclusions, an exhibition by Kari Minnick, features glass "collages" that combine bold composition, sensitive drawings, and fluid edges. Using flame-worked linear elements and images drawn directly into glass powders, Minnick creates signature pieces reminiscent of gestural drawings. Minnick's expressive use of line and manipulation of light break new artistic ground in the painterly expressions that emerge from hand-cut glass.
Minnick holds a degree in studio art from the University of California and has worked as an exhibiting artist and educator for twenty years.She recently opened Kari Minnick Art Glass Studio in the heart of the new Arts and Entertainment district in Silver Spring, MD. Selected by the Hillyer Art Space Advisory Committee for Washington Region Programming, Minnick was recommended due to her unique talent and vision. IA&A's Hillyer Art Space is funded in part by the DC Commission on the Arts and Humanities, an agency supported in part by the National Endowment for the Arts.
9 Hillyer Court NW | Washington, DC | 20008 | MAP
T. 202.338.0680 | Gallery Hours: Monday – Friday 10am-5pm
www.artsandartists.org/artspace.html