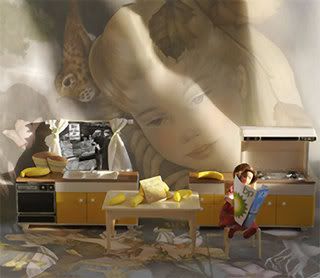 I Never Saw a Banana by Aliza Augustine
January 18 – February 8, 2008 / Opening Reception January 18th, 7-10 pm. With music at 9 pm by Wheatie Mattiasich / Lesser González Alvarez / Romantic States
Current Gallery is pleased to announce MADE HOME, an exhibition that extracts intimacy and humor from the surroundings we call home. Some featured artists use sound and movement to evoke the strangeness of familiar spaces; others re-validate the human desire for tactility by using decoration and collaged objects as reminders of comfort. Made Home represents home as an unlikely place.
Curated by Hannah Brancato and Thao Nguyen.
Featured Artists:
Vestal Abbott, Brandy Agnew, Aliza Augustine, Blake Carrington, Chayana denHarder, Anna Diciccio, Lara Emerling, Henry Gwiazda, Chip Hughes, Ianthe Jackson, Erica Madden, Rebecca Murtaugh, Rebecca Nagle, Aphrodite Navab and Richard Jochum, Anna Neighbor, Thao Nguyen, Erica Prince, Leslie Rogers, Roshani Thakore, Caitlin Williams, and Aiden Coldsmith, Ryan Patterson, and Rachel Valsing.