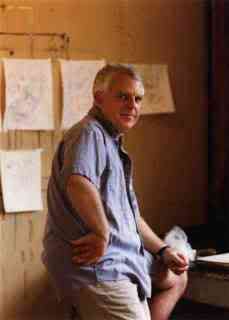 Ron Haynie was the best art professor that I had at American U, where I did my undergrad degree. I took his painting and drawing classes over and over, probably a total of five times, but maybe more. I remember distinctly the time that Ron invited our advanced drawing class to his home and his studio. It was my first experience in an artist's studio. True to his Martha Stewert-y self, Ron had an elaborate platter of grapes and cheese, fruit and crackers, wine and lemonade waiting for us. It was amazing and so welcoming. He really liked to have a good time and it was important to him that we did, too. He was warm and enthusiastic, and he wrote ALL of my letters of recomendation for graduate school. If Ron was the heart of the art department at American University, his wife Glenna is the brains. She runs the department with an iron fist – everyone was scared to death of her until they shared that first smoke, and experienced her warm and, often, sarcastic wit. The two of them were an unlikely pair and always seemed completely happy to be together, working in the same department, sharing a home, and raising a daughter together.
I am sorry to say that Ron passed away yesterday, January 4, after a long battle with cancer. He was a bright and talented professor and a well respected curator, running the Watkins collection and gallery for many years. He will definitely be missed by many and touched so many lives.
– Cara Ober, AU Graduate 1996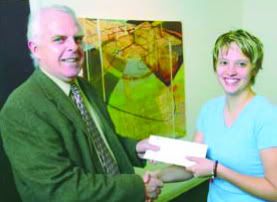 I had Ron as a professor too and I think he did the most to expand and deepen the way I paint and draw. His exuberantly colorful set ups were always a joy to work from and his insistence on exercising and developing fundamental skills has been invaluable to me. Mostly though, Ron felt like a friend as well as a teacher. I started out as a rather iffy transfer student and Ron backed me up that first semester and recommended I be accepted into the program. Later, once I was well entrenched and reveling in being an "art nerd" as I called it, Ron mentored me through an independant study. Both times were turning points for me. Ron introduced me to a more serious if fun way of making art and then he was a supportive and helpful observer while I learned how to paint on my own.
Ron was a very generous teacher and the only instructor I've ever had who was willing to open himself up and share the way he works. I still set my palette up the way he did when he took us to his studio, so whenever I paint, there is always a moment of solidarity with Ron as I glory in those colors emerging from their tubes.
– Maude Zopf, AU Graduate 1997