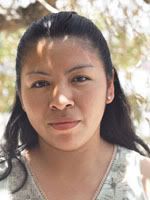 On view March 1-29
Reception: Sat Mar 1, 4-6pm
Screening: Thu Mar 13, 7:30pm Señorita Extraviada (Portillo, 2001), co-sponsored by Adelante Familia. $7, $5 mbrs, stus.
Laura Burns spent a year as a Fulbright scholar in Ciudad Juárez, just across the border from El Paso, documenting its precipitous growth and social change. With endless miles of maquiladoras—factories built on the premise of cheap labor and no tariffs—Juárez symbolizes the growth and problems associated with globalization. Homenaje ("Homage") is Burns' installation of photo portraits of Juarez' women factory workers, who are the backbone, and often the victims, of our trade relationship with Mexico. In the fifteen years since NAFTA was signed, hundreds of women, mostly from Juárez's rural outlying communities, have been raped, tortured and killed, apparent victims of collusion between corrupt politicians, narco-traffickers, and first world reliance on cheap goods. Sidestepping the prurient fascination with this story, Burns focuses on the strength and dignity of the workers she met, with sunny, straightforward portraits of ordinary women at the vanguard of a shift towards women in the developing world entering the workforce. Individually, their gazes are direct, and unafraid; installed together, they suggest solidarity, and the scale of change taking place. Burns' engagement with her subjects is palpable, and puts her in a tradition of artists from Dorothea Lange to Hans Haacke, exploiting the documentary power of photography to effect political change. Homenaje toured more than a half dozen sites in Mexico, and makes its US debut at The Patterson.
CA uses the occasion of Burns' installation to promote public dialog about the effects of globalization in our own city, particularly with the burgeoning Latino population in the neighborhoods of Southeast Baltimore. On Mar 13, we host a screening of Señorita Extraviada (Portillo, 2001) the acclaimed documentary about the unsolved murders of women workers in Juárez.