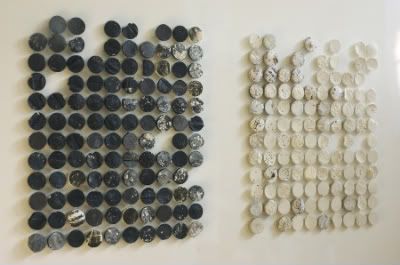 Dichotomy of Dirt by Margaret Boozer
EARTH: In It, On It, Of It is an exhibition at Julio Gallery at Loyola College, March 1-31, that has as its theme an artistic and environmental mapping of the planet, using ceramic artists' understanding and conception of Earth's fragility as curatorial focus.
Visual artists can be interpreters of human experience, chroniclers of the familiar made extraordinary by translating a shared experience into a singular, tangible object. At this time in our history as a people, there is finally a growing and widespread awareness of the compelling experience of a vanishing planet – global warming, air pollution, and an overall deterioration of the balance and ecological systems that sustain life.
Ceramic artists, in particular, are affected by the state of the planet, as we make our art from the stuff of its surface. There are elements in the work of the selected artists that make the intangible qualities of the love, knowledge, and understanding of Earth tangible. Whether the pieces celebrate elements of the vanishing landscape or whether it maps the points of its locus, I am hoping that the exhibition, EARTH: In It, On It, Of It will raise public awareness of work in clay and artists' concern for shared existence on our planet.
-Deborah Bedwell, Curator

Hidden River by John Williams
Exhibiting Artists: Josh Copus / Ann Hazels –MD / Gary Schlappal – MD / Alice Yutzy – MD / Matthew Hyleck – MD / Shoji Satake –WV / Myung Rye Kim – MD / John Williams – PA / Margaret Boozer – DC