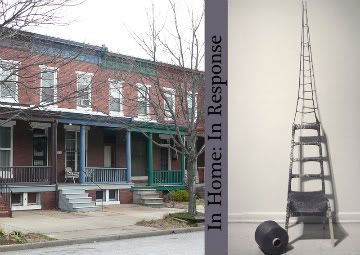 The recent one night only exhibition of In Home: In Response, provided a unique opportunity to consider how many interesting works of art don't make the cut for one reason or another in juried group exhibitions. Representing artists that were not selected for the original home themed exhibition at the Current Gallery, this exciting show was the brain child of Kerry Adams, a Baltimore artist, who was curious to see what other talented artists were not selected due to logistical issues and/or curatorial decisions. Adams saw this as a way to expand and continue the original show and give opportunity to those who could not be included in the Current Gallery version. Adams suspected that a strong show could come of the rejected work and the overall quality of the show this past Friday night, made a persuasive argument for her assumption.
An ambitious endeavor, this group show not only investigated the limitations of the juried gallery show, but also commented on where art is viewed and why. Although much of the world's art is displayed inside private residences, it is still felt that a gallery or museum is the ideal place in which to view artwork. Adams' response to this idea is a great example of new trends we see among young artists, collectives and emerging curators.
"As curator, I was forced to think about each piece and how it represented the artist's idea of home and how that would best be represented in my own home." Adams shares the living space with another Baltimore artist, Julie Benoit in Charles Village. It was a fun night and chance to see local and national art in an intimate setting, in the heart of Baltimore city.
There were several examples of refreshing work within this eclectic show of personal experiences and intimate ideas of home and place. Eliza Lamb's two small photographs, Home Mirror and Home Vase, presented soft interior architectural snapshots that embodied the memories of a home but not the definition of a specific place. Similarly, Jenee Mateer, a photographer who recently moved to Baltimore from Providence, RI, observes how light plays within the walls of her space to present a soft interior of home. However, her photograph, Fish Tank, is not a frozen memory like Lamb's but rather a delightful discovery of light and space through layers of reflection, shadow and the passing of time.
D.C. artist, Maria Mclean had 3 pieces in the show. Her poetic work reflects her own deep rooted personal experiences while still leaving points of entry for the viewers own reflection. The most successful of the three, How to make a star, reveals history in layers of paint that peel off an antique door sprinkled with unfinished origami stars of aged paper torn from books layered with dark colorful drawing.
Four photographs that document a performance piece by Syracuse artist, Matthew Keeney, attracted as much attention as if he were performing live that night. In this entertaining and enlightening performance, Keeney wears a wooden house-like structure on his head during mundane tasks like filling his car with gas. His presentation questions how much of our home we carry around with us throughout the day, while confronting the boundaries of private and public space.
Amanda Gogel's four photographs of what I assumed to be Baltimore project housing, were beautiful and symmetrical (emphasized by Adams curating) explorations of a modern political conflict. Can communal low income housing be beautiful AND necessary? She supplies a vision of these buildings that feels alive and on the verge of ideal socialism with a nod to the modernist grid aesthetic, however one walks away still aware of the reality of these institutional structures.
Other notable works included two accomplished sculpture installations by Kerry Adams, a drawing by Jon MacNair, video work of Christine Dehne, an innovative wall piece by Jody Isaacson, and several interesting works exploring gender issues by Tara Campbell