New American Paintings: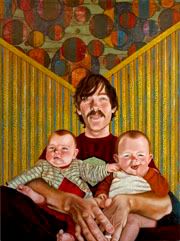 Jamie Pocklington
Work by Robert Sparrow Jones and Jamie Pocklington
March 28- April 25, 2008
Opening Reception: Friday, March 28, 5pm to 8pm
The Long View Gallery is pleased to announce an exhibition of new works by Robert Sparrow Jones and Jamie Pocklington. The opening reception is on Friday, March 28, 2008 from 5pm to 8pm.
The artists featured in this month's exhibit of works were handpicked by Stephen Bennett Phillips of the Phillips Collection for the New American Paintings publication, Volume number 69, released in the fall of 2006. The work was chosen from the 2006 Mid-Atlantic competition. While time has passed since they were recognized for their work nationally, we at the Long View Gallery were drawn to the strength of their work.

Fox Hunt by Rob Sparrow Jones
Robert Sparrow Jones grew up in rural Pennsylvania in the 1970's. His works are loose and energetic, relying on a bright and forceful color scheme to evoke an emotional response from the viewer. Mysteries that everyday experiences bring are the catalyst for his inviting and seductive work, embodied in figures invested in their daily routines. Galleries in Washington state, New York, and Baltimore have housed his work and he currently works as an adjunct professor at Towson University.
Jamie Pocklington graduated from Virginia Commonwealth University in 1992 and currently lives in Richmond, Virginia. He paints quasi-realistic people in abstracted settings. People often feel like they know or have seen the subjects of his work. This is not likely, unless you were drinking with those kids at beach-week, or were at that New Years Eve party in Australia, and we all have made and forgotten, school projects. The subjects come mostly from internet photos albums and image search engines. He is drawn to images that have universal qualities that he then collages into new scenarios, out of context of the original photos. As he paints, he often wonders if an unwitting model is out there thinking, "I feel like someone is painting me, and If I find them, I will sue them."
LONG VIEW GALLERY
1302 9th Street NW
Washington, DC 20001
www.longviewgallery.com