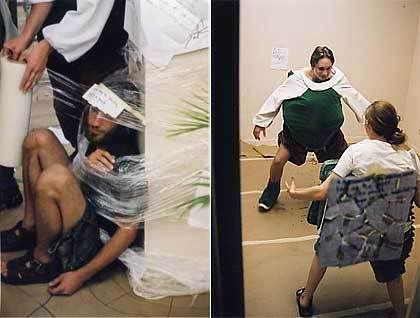 Wednesday April 2nd 2008, 6pm-10pm
Oliver Herring has been an artist in residence at UMD's Department of Art this semester. A prominent contemporary sculptor, photographer, and videographer, he has had solo exhibitions at the Museum of Modern Art, the Guggenheim, the New Museum, and the Hirshhorn. And now he's throwing a party. Part performance piece, part art rave, TASK is awesome art chaos. What starts as a roomful of people, a boxful of random task instructions and a stage defined by cardboard and paper will inevitably catapult into a madcap art party where anything goes. There will be music, free food and major fun to be had. Tell your friends, your grandma and the family dog that the scene's at Ritchie this Wednesday—then show up (bearing props and mix CDs and anything your heart desires) with your beautiful selves, prepared to party. Everyone is invited!
Directions to Ritchie Coliseum: If traveling South on Route 1 in College Park towards the University of Maryland, go past the main entrance to the campus (which is Campus Drive) and then turn left at the very next light onto Rossborough Lane. After you turn left onto Rossborough Lane, Ritchie Coliseum will be the building immediately on your right. The main entrance to the "lobby" of Ritchie Coliseum is on the side facing Route 1.