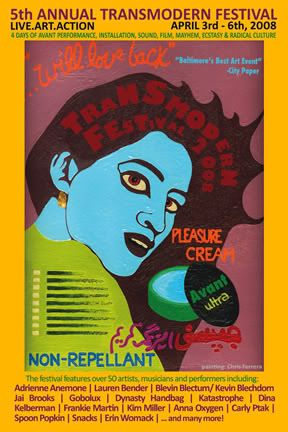 The 5th Annual Transmodern Festival (Live.Art.Action) will be held at Load of Fun Galleries and the surrounding Station North Arts District from Thursday, April 3rd to Sunday, April 6th. The festival expands this year to over 70 critically acclaimed local and international artists presenting experimental performance, sound, film, and installation.
This year, we're also including a special Sunday event! The "Pedestrian Services Exquisite," is a guided walking tour of North Avenue and beyond with over 30 site-specific, roaming, uncanny, planned/unplanned, and esoteric events and actions along the way, including the LOVE PARADE from Baltimore's own Fluid Movement. You do not want to miss this extraordinary outdoor event!
Dates: Thursday 4/3 – Sunday 4/6
Times: Thurs – Sat – Doors open at 8pm, show at approx. 9pm. Sunday outdoor performances from approx. 12pm – 3pm.
Cost: $10 for Thurs – Sat. Sunday Pedestrian Service Exquisite is free.
Info: www.transmodernage.com for details, schedules, tickets
Just a few of the featured artists include: (and ONE of them will be eating her own weight in OREO cookies on Saturday)
Adrienne Anemone / Lauren Bender / Blevin Blectum / Kevin Blechdom / Jai Brooks / GOBOLUX / Dynasty Handbag / Katastrophe / Dina Kelberman / Frankie Martin / Kim Miller / Anna Oxygen / Carly Ptak / Spoon Popkin / Snacks / Erin Womack …. and many many many more!