"The Elusive Surrounding" opens at Grimaldis Wednesday, April 30, from 6 – 8
April 30 – May 31
Artists: Lorna Bieber / Karl Connolly / Don Cook / Richard Edson / Dennis Farber / Hidenori Ishii / Christopher Saah / Krista Steinke / Mary Temple
W/an essay by Al Miner, a curator at the Hirshhorn.
////////////////
Wolf Kahn Opening at the Thomas Segal Gallery
Reception: Wednesday, April 30th from 5:30 – 7:30pm
Thomas Segal Gallery
E X P A N S I O N
2 Shows, 1 Night
MAIN GALLERY
Wolf Kahn: Paintings & Pastels
NEW GALLERY
Group Show/New Works: David Brown, Bill Crowley, Trace Miller and Denise Tassin
Exhibitions dates: Wednesday, April 30 – Monday, June 8, 2008
Open by appointment only.
Thomas Segal Gallery
4 West University Parkway
Baltimore, Maryland 21218
410-235-1500
Thomas Segal Gallery is located on West University Parkway in the Colonnade. Enter through the hotel.
Parking may be found on University Parkway, Canterbury Road or in the Colonnade garage.
////////////////
Thesis III at MICA!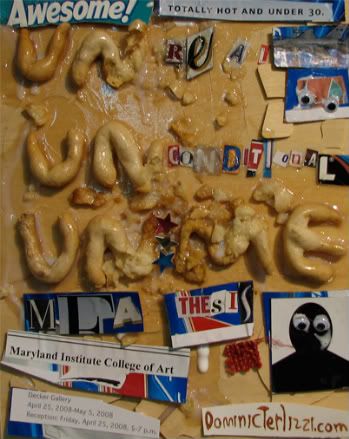 for pics and more info, go to ArtCade Forum or the ten tigers blog.
/////////////
Blanket Statements at Load of Fun
Blanket Statements will run from April 30 – May 11, 2008
Load of Fun Galerie
120 W. North Ave
Baltimore, MD, 21201
An exhibition of quilt-inspired artwork that celebrates community and examines issues surrounding diverse groups, culminating (May 10) in a day of performance, food and hands-on activities and art projects for all ages.
This event is a fundraiser to benefit the Doll Project at the House of Ruth and to buy library books for the Baltimore Polytechnic Institute.
//////////////
First Friday at Shine with Local Designer Audrey Lea Collins Petrich

First Friday with local designer Audrey Collins Petrich!
Talented Baltimore clothing designer and artist Audrey Collins Petrich will be at Shine this Friday, May 2nd, from 6-9pm with the latest pieces from her line A.Lea.C.P.. Her craftsmanship is impeccable as well as her eye for detail. This collection is truly her most exciting yet. We'll also have the usual festive fare with wine, beer and snacks to set your weekend up right.
Shine Collective | 1007 W. 36th St. | Baltimore | MD | 21211
//////////////////

Critics Picks at Maryland Art Place
Critic: Robert Berlind
Writers: Darcelle Bleau, Robert Jason Fagan
Artists: Vincent Carney, Timmerman Daugherty, Dennis Farber, Symmes Gardner, Catherine Kleeman, Isabel Manalo, Jacqueline Schlossman, Jacquelyn Singer, Diane Szczepaniak
Saturday, May 3 Public Forum with Robert Berlind and participating artists and writers from the 22nd Annual Critics' Residency program. The forum will be moderated by Mark Alice Durant.
///////////////////
OPENING RECEPTION SATURDAY, MAY 3, 4:00 – 6:00 PM.
CREATIVE ALLIANCE AT THE PATTERSON
3134 EASTERN AVENUE, BALTIMORE
The Minstallation Gallery at the Creative Alliance is pleased to present View from a Vista-Dome: Dazzle Cities, a new miniature installation by New York artist James Reeder.
NYC's James Reeder is known for his small, atmospheric photographs of delicately constructed model environments. Though related in concept to photographers like Thomas Demand, whose images of constructed spaces are mistaken for the real thing, Reeder's images are distorted and the models clearly handmade. Depicting blurry cityscapes or the aftermath of epic natural events, they feel simultaneously archaic and timeless, reducing colossal and long-enduring structures to fragile and transitory symbols of utopia.
More information is available at the Minstallation Gallery blog or at the Creative Alliance website.
Presented by artist/impresario R.L. Tillman, the newest addition to Baltimore's cultural landscape has already staked its position as the region's most vibrant miniature installation space. Emerging and established artists are encouraged to spread their wings in this intimate yet ambitious gallery, with 225 square inches of floor space and generous 14 inch ceilings.
MINSTALLATION.BLOGSPOT.COM
CREATIVEALLIANCE.ORG