After an insane weekend of going to art auctions, one at MAP and the other at Creative Alliance, I've had art fundraisers on my mind. Although I think they are necessary and usually good for publicly funded spaces, and although I was compelled to buy work at both spots, I have to admit there's something about them that makes me uncomfortable as well.
I am an artist. I have also recently opened up a modest exhibition space here in Baltimore with another artist, thus putting us on the "other side," a role that I am not entirely comfortable with. ( I guess I prefer to think of myself as a curator, because we're certainly not managing artist's careers.) Anyway, this role is quite different than being an artist. Possibly, I feel uncomfortable being on the gallery side of things because I think I am an artist first. Sometimes what seems like a good idea to the artist in me seems wrong from the gallery perspective and I think it's strange that the two should conflict.
For example, my artist self thinks that I SHOULD donate my work to all of the requests for various fundraisers, and art auctions. At this point, I think I have been 'invited to participate' in about ten so far this year. Non-profit and 'alternative' spaces gave me my first exhibition opportunities, which have lead to other professional opportunities, so my heart feels I ought to support them in any way that I can. However, I also think that all of these fundraisers, which do depend upon the kindness and generocity of artists, are potentially detrimental to what little commercial art scene Baltimore has.
Artists complain all the time about a lack of galleries, about a lack of potential for commercial representations, and that it is difficult to sell art in Baltimore. Commercial galleries exist in a symbiotic relationship with the artists they represent – they throw great parties, they publicize, write press releases, take work to national audiences in art fairs, and sell work for artists. I think, when things are working as they should, the artist is left to do what they do best – make art – and the gallery can handle all of the press and business, which, ideally, they do well. But if collectors can buy the same exact work for less at an art auction, why should they go to the gallery?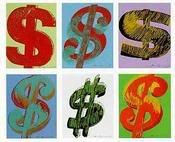 Certain collectors will buy works at fundraisers and avoid commercial galleries entirely. Auctions, especially, can be the worst. Artists set the minimum bid, but there's no guarantee that their work will sell for its 'market value.' This is potentially a great bargain for the buyer, but, seriously – who WANTS 'bargain' art? Art is by its very nature an extravagance, and artists should be able to lavish adequate amounts of time and energy on their work.
And what do artists get from participating in such events, year after year? Some of the fundraisers are now offering artists a percentage of their sale, while others give only a tax-deductible receipt. For an unrepresented artist, these events offer an invalueable chance for their work to be seen and purchased, and of course, the party, which artists are usually invited to, is a good time with lots of free booze.
Not every artist wants to be commercially represented anyway. But, for many, commercial galleries are the backbone of their careers. If galleries and artists are constantly asked to donate their profits to 'worthy causes' it does eventually undermine the success of the commercial gallery.
I am not advocating that artists stop donating works to non-profits or other fundraisers. But I am suggesting that artists be more discriminating about what they choose to participate in, and to allow themselves to say no without guilt as well. I would also like to suggest that these spaces choose alternate kinds of auctions and fundraisers – where artists are assigned thematic or media specific projects outside of their regular body of work – so that works donated don't compete with their professional body of work. My other suggestions would be for non-profits to feature the work of unrepresented and emerging artists, partly to create more opportunities for those who need them, and also to be more supportive to local commercial galleries.
It is a fine like that artists walk, between non-profit, publicly funded, and alt spaces AND the commercial side of being a professional. I think we artists need to sometimes remind ourselves that professionals get PAID for their time, skills, and energy and consider where those funds should come from. Burdening artists and commercial spaces, many of which struggle to stay afloat, is not the answer.