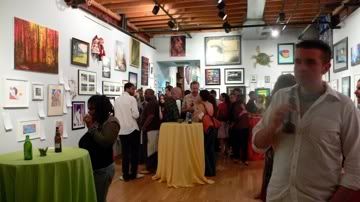 Last night I attended and attempted to volunteer at MAP's biannual extravaganza, "Out Of Order," in which ANYONE can hang up a piece of art for free. It's a smart way for MAP to raise funds, since it is a non-profit organization, and it's a great opportunity for artists to get a line on their resume that says Maryland Art Place. Here's how it works: artists hang work on Wednesday, salon-style, first come first serve. Some works end up being hung in hard to see, up high, and out of the way spots, but oh well, its free. The artist sets the minimum bid. On Friday night, MAP throws a huge party – artists come for free and everyone else has to buy a ticket for thirty bucks. Open bar ensues, and everyone knows how charming artists can be when they drink. Then mad shopping explodes and Viola! fundraising happens without annoying requests for donations. Artists and MAP split the profit fifty-fifty.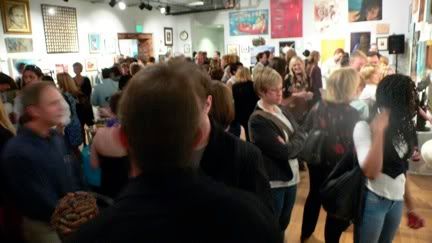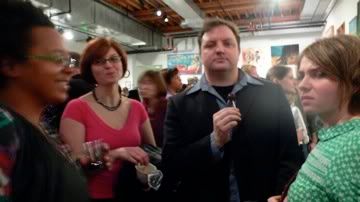 I was shocked at the number of bodies crammed into MAP. As a member of the programming committee, I try to go to all of their openings and I have NEVER witnessed a turnout like this. Last night there were so many people there that I had condensation forming on my beer bottle. It was steamy and crowded and full of thrilled artists and potential 'collectors.'
It was really amazing and overwhelming – I think there were a LOT of people there who had never been to an art opening before, and, due to mostly affordable prices, lots of people bought work. We need to encourage more of this here in Baltimore.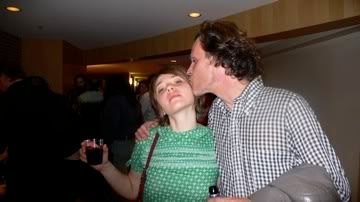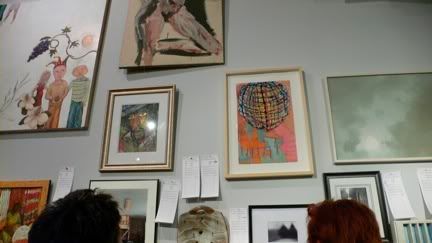 Works ranged from abysmal to the sublime. It was like shopping at Filene's basement – lots of crap, with little gems hidden in between. Some works were priced insanely high and others were as low as ONE DOLLAR. One stand-out piece was a large, colored photo of a drunken Paris Hilton with one breast hanging out with "Hang In There!" added on (Who didn't have that kitty cat hanging onto the limb poster as a kid?). I desperately wanted to bid on a small Kay Hwang piece, but couldn't afford the minimum bid. I also thought long and hard about biding on Joe Giordano's "Art$" portrait, which got BEST in SHOW according to my friend's drunken "best of" list at the end of the night. Erin Cluley's etching and April Lewis' clay busts were among some of my other favorites, and everything sold. I ended up bidding at the end of the night on a sweet little Soontornsaratool photo and I WON.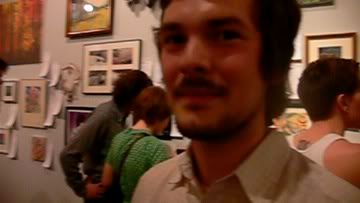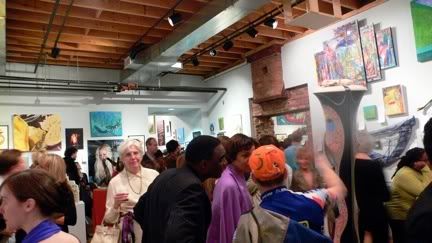 At the end of the night my job as volunteer was to keep artists from taking non-purchased works off of the walls, and I got to chat with the folks at Shine Collective, who happen to be my neighbors, and check out their new selection of original, local-artist designed T's. Those who purchased works were allowed to take their carefully bubble-wrapped artworks home and most looked very happy (or drunk?) about their purchases. There was one man leaving who bought a HUGE painting on canvas, possibly six feet long, and on his way out I asked him, "How are you going to get that home?" And he looked at me sort of blankly and then said, "In a cab." Wow. I wish the best to him and to all those who purchased original, local art, and hopefully good kharma as well.