I don't even really know what has been going on this week…? Like the government is still shutdown, there are hella women in the House of Reps, Nancy Pelosi is Speaker of the House, Elizabeth Warren is running for president, Alexandria Ocasio-Cortez had the scandal/non-scandal of dancing on a rooftop in college, and Brazil is going right wayyy faster than expected.
Highlights: Millennials are burnouts, Ballroom lost an icon, US copyright is uptight AF, idk why R. Kelly still a thing, Louis CK canceled himself, there is always a Markle family showdown, IUDs are not for poverty control, kids are not funny, Obama is going for a third Grammy, and Julie Andrews is a racist sea monster.
1. BuzzFeed: How Millennials Became The Burnout Generation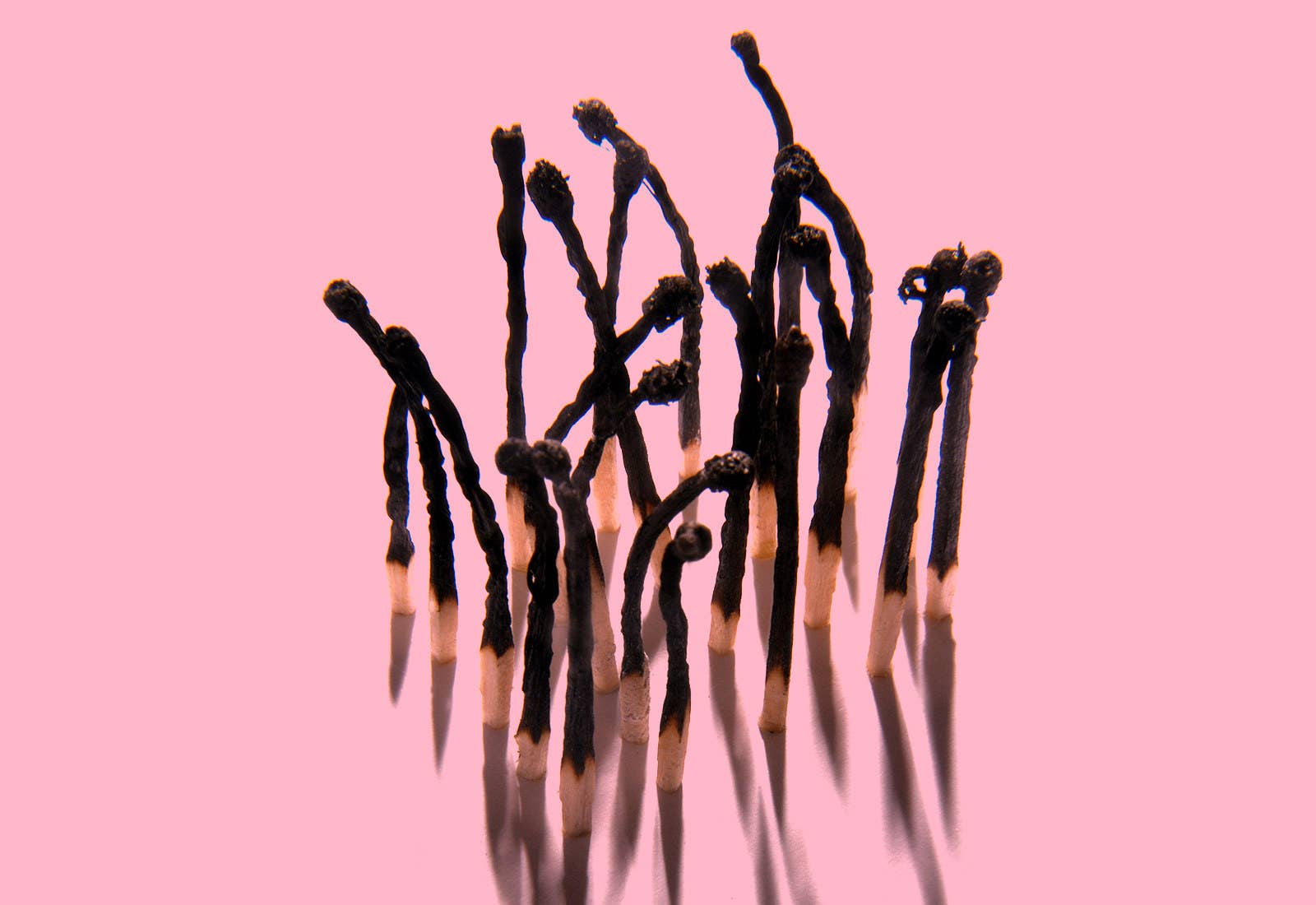 I hate sending emails. I hate sending emails to the point that it was almost too late for me to ask for letters of recommendation for graduate school applications because I had been avoiding it for six weeks. I almost never send an email more than one line long without having someone proofread it. I'm also almost constantly worried that I left the stove on. I double check it after making dinner at night, and usually check it a third time while I'm brushing my teeth. I have also started taking pictures of it each time I leave the house—even if I haven't used it that day. I procrastinate on scheduling any and all appointments, especially when it comes to healthcare. And I still have no clue how to do taxes. There are more examples of adult tasks that make me anxious, but I think you get the point.
There is still the wrong assumption by various older generations that millennials are whiny high schoolers when in fact "we're not feckless teens anymore; we're grown-ass adults, and the challenges we face aren't fleeting, but systemic." At 23, I am one of the youngest millennials you will meet, the oldest are nearing 40.
"To describe millennial burnout accurately is to acknowledge the multiplicity of our lived reality — that we're not just high school graduates, or parents, or knowledge workers, but all of the above — while recognizing our status quo. We're deeply in debt, working more hours and more jobs for less pay and less security, struggling to achieve the same standards of living as our parents, operating in psychological and physical precariousness, all while being told that if we just work harder, meritocracy will prevail, and we'll begin thriving."
Millennial burnout is real and "it is why the fundamental criticism of millennials — that we're lazy and entitled — is so frustrating: We hustle so hard that we've figured out how to avoid wasting time eating meals and are called entitled for asking for fair compensation and benefits like working remotely (so we can live in affordable cities), adequate health care, or 401(k)s (so we can theoretically stop working at some point before the day we die)." I can only imagine what it must be like for old millennials.
2. Out: Rest in Power Hector Xtravaganza, the "Grandfather of Ballroom"


Hector Xtravaganza, "a power player in the ballroom community for nearly 40 years" who is sometimes referred to as the "Grandfather of Ballroom," died on December 30th. Ballroom culture has gotten a lot more mainstream recognition recently, most notably with FX's Pose—if you do not watch, it is a must—which Xtravaganza consulted on. Xtravaganza "has been an activist, helping to raise money and awareness surrounding HIV since at least the 1990s after having seroconverted in 1982. Most recently, he appeared in an ad for the New York City's Department of Health and has been a part of the Latex Ball — an effort that raises HIV awareness specifically in the ballroom community — since it began." He will be missed.
3. The Guardian: 'The drought is over': mass US copyright expiry brings flood of works into public domain


In 1998 copyright law was extended through the Sonny Bono Copyright Term Extension Act and added another 20 years to existing copyrights. This means that "the swathe of 1922 works which passed into the public domain in 1998, after a 75-year copyright term, are only now being followed by works first published in the US in 1923."
This could potentially have a huge impact on artists, scholars, and culture, allowing people to freely use and adapt works by author such as "Edgar Rice Burroughs to Kahlil Gibran, PG Wodehouse to DH Lawrence, Edith Wharton to EE Cummings," and films, paintings, and other visual media.
4. Time: Lifetime's Surviving R. Kelly Should Terrify R. Kelly

I'm young enough that when I first remember learning about R. Kelly it was already widely known that he was a sexual predator. He married Aaliyah before I was born, but the sentiment in the early 00s was basically "…yeah, but have you heard Ignition?!?!" As #metoo has arisen, I find it interesting that Kelly has remained relatively untouched.
Over the past week, Lifetime premiered the episodic documentary Surviving R. Kelly, which chronicles his abuse of young girls, many of who are underaged. Although many celebrities have collaborated with Kelly, few are featured in the documentary (John Legend being the most prominent).
It is clear the Kelly could not sustain the levels of abuse documented in the series without enablers close to him. But more importantly "Surviving R. Kelly ultimately implicates everyone who has ever bought an R. Kelly album, attended one of his concerts, marveled at the spectacle of his bonkers 'hip hopera' Trapped in the Closet or even laughed at a late-night joke about the tape in spite of the grave accusations against him. As a culture, we have prioritized our own enjoyment over these survivors' suffering. If we can't take back our complicity, we can at least help their fire spread."
5. The Cut What Did We Really Expect From Louis C.K.?


I don't typically follow comedy or comedians, so I was never really a fan of Louis C.K. Sure, I enjoyed random clips that came across my various social media feeds, but I never invested anything in his career. A year ago, after it was revealed and C.K. admitted to sexual misconduct my life remained unaffected.
C.K. has been trying to make a comeback after waiting a "long time," of 10 months, to "listen," as his apology stated. But according to a recently leaked set, "We finally learned the full measure of what a newly 'back' Louis looks like: a man who bitterly criticizes people's preferred pronouns and derides the Parkland-shooting activists as boring. As comedian Dan Telfer tweeted: 'All it took for Louis C.K. to go from 'fuck Trump' to sounding exactly like him was being caught.'" C.K. hasn't learned anything.
6. Vanity Fair: Inside the Markle Family Breakdown


The saga of the Markle family drama seems to be never-ending and juicy AF. If you have not been following it, basically Meghan Markle, a.k.a. the Duchess of Sussex, and her family, particularly her father and sister Samantha, a.k.a. "the Duchess of Nonsense," always have conflicting stories of Markle's past. Most recently this happened when Samantha tweeted "Dad paid for her college education… I love my sister but this is ridiculous," after the Duchess stated in a speech in Fiji that she worked her way through college.
"The blowup between Meghan and some of her biological family has been a rare fiasco for the Duchess, aided and abetted by elements that include the British tabloids' dexterity at fomenting race- and class-based discord, the royal family's usual resistance to change, and the unbridled loopiness and more than occasional meanness of some Markles… It has also pointed up an essential difference between our two countries: Brits often can't escape their families, or even their class, whereas our myth is based on striking out on one's own."
This is going to go on for a while. After all does family drama ever really end?
7. New York Times: The Dangerous Rise of the IUD as Poverty Cure


I would probably guess that at least half of my friends on birth control have IUDs. Most of them like it because IUDs last anywhere from 3 to 10 years, are reversible, and many of my friends either don't get their periods or have extremely light ones.
The rise in IUDs however, is also reminiscent of our country's eugenicists past. "Between 1909 and 1979, about 20,000 people were involuntarily sterilized in California — one of 33 states where compulsory sterilization" was legal into the 1900s. "Even in recent years, some judges have offered reduced sentences to defendants who agree to be sterilized or use birth control." Using a woman's reproductive rights to manipulate sentencing isn't as uncommon as one might think.
"Prioritizing women's access to all contraceptive methods is undeniably a laudable goal. But access shouldn't be contingent on the dangerous claim that it will address the fundamental societal problem of poverty and economic inequality. This, in fact, requires policies such as raising the minimum wage, instituting paid family and sick leave, and expanding access to social services."
If you want more information on this, I suggest reading Dorothy Roberts.
8. The Atlantic: Knock Knock. Who's There? Kids. Kids Who? Kids Tell Terrible Jokes.


Humor isn't my strong suit. It takes me a long time to learn someone's humor. I frequently look confused and perplexed when someone is trying to make a joke. And when I get jokes, I don't usually laugh at things most other people find funny. When I joke it is often dry, and most people interpret it as my typical bewilderment.  
Kids tell jokes all of the time. Sometimes they are truly funny. Most kids don't understand the jokes they hear, so they "learn the rhythms and formats of jokes without really understanding how humor is supposed to work, resulting in nonsense that has the shape of a joke but isn't, really." A lot of jokes small children tell are only funny to the child that told them. A lot of times adults end up laughing because the jokes are so strange and out of nowhere, and the child so cute, that you end up laughing at the child.
I usually think I'm hilarious. My friends and family say they often only laugh because of how funny I find myself. But hey, someone has to believe in me!
9. CNN: Barack Obama hits the Billboard chart with Lin-Manuel Miranda

I mean I had to include this because LMAO! In addition to his two Grammy Awards, Barack Obama now has a song that has charted on Billboard's Hot R&B. Maybe here is a third Grammy…?
10. Vulture: I'm Obsessed With Julie Andrews Voicing a Racist Sea Monster in Aquaman


It is very easy to be obsessed with Julie Andrews. I mean, there is The Sound of Music, Mary Poppins, Princess Diaries, and lest we forget the latter part of the Shrek series! But her most recent cameo as the Karathen in Aquaman, "a tentacled creature who guards a watery MacGuffin that our hero must obtain if he wants to become master of his damp domain," comes as somewhat of a surprise, especially because she didn't make an appearance in the new Mary Poppins film.
"At some point in the recent past, the 83-year-old Dame of the British Empire decided that she did not want to return to the cheery musical world of early 20th-century London, and at roughly the same point in time, she decided that she did want to go into a voice booth and record dialogue calling a DC Comics superhero a 'mongrel' and a 'half-breed.'"
I'm all for Andrews popping in more unexpected places.
---
*All images taken from reference articles*
Have a suggestion for next week? Email afoehmke@bmoreart.com with the subject line "The Internet is Exploding."