I was SUPER into the internet this week! I mean some crazy stuff also happened, like the Polar Vortex, and a photo of Ralph Northam dressed in blackface surfaced on the first day of Black History Month. 
Highlights: Fur is different for black women, doubt is natural, fish camps are disappearing, hot chocolate is wasted on children, Ariana Grande barbequed her hand (twice), SoundCloud rap is WILD, Velvet Buzzsaw is kind of amazing, The Cut missed an opportunity, BuzzFeed is doing exactly what it critiques others for, and there is not a coup in Venezuela.
1. The New York Times: A Black Legacy, Wrapped Up in Fur


I rarely (if ever) notice when a white woman is wearing fur, but I ALWAYS notice when a black woman does. Fur just performs on black women differently, it seems to come alive and gleam and sparkle. For as long as I can remember my mother has been talking about getting a fur coat, it is a constant in the back of her mind. My grandmother has a black mink, and I think it is the coat my mother is waiting for and why she hasn't already gotten one of her own. "Black people, in general, no matter their incomes, like to look nice," said Vivian Jarrett-Irving, mother of the author, Jasmine Sanders. My mother always talks about how she had to be "lobby ready" or groomed well enough to take a picture at any moment, whenever she left the house growing up. 
Often times for black women "a fur coat is more than a personal luxury item. It is an important investment." It is an item of value that could be passed through generations when black people couldn't own homes, or have other investments. Fur was the U.S.'s first major export, and "a lot of North American history can be told" through it's history.
2. Lit Hub: When Even the Greatest of Writers Grapples with Self-Doubt
Every artist, writer, researcher, and anyone trying to create something new has suffered from doubt. It is impossible not to because doubt creates self-awareness. I believe the best work—or at least my favorite work—of any kind is self-aware and has a perspective on its given subject. I had a teacher that used to say "artworks work, so how does your artwork work?" It is a question that is now always at the back of my mind, one that I'm always attempting to answer and constantly failing at, but I think that is how it is supposed to work.  
Towards the end of his life, W.B. Yeats came to an impasse, suffering from writer's block. He began to investigate some of his old themes and "he suggested that he needed to find that fey spark, that spool of dream, he once knew so well, even if it meant going back to the beginning—whatever and wherever that might be." In Yeats' final 1939 collection, Last Poems, he seems be telling us "not to give in to failure, even when we feel our art and dreams have deserted us" to "write…even when Death has brought your suit."
3. The Bitter Southerner: The Last Fish Shack on the River


Although I love food and cooking I don't normally like eating out. Restaurants are usually loud, busy, and I would rather have friends over for dinner. When I do go out, I prefer dives or small local restaurants, and often get something that I would never make at home (pho is a staple). I don't love fine dining and I don't like pretentious food.
Desposito's Seafood Restaurant on the Wilmington River in Thunderbolt, Georgia seems like a place I would go to. I grew up spending a lot of weekends in northern Michigan, and there are a lot of fish restaurants like this. (No, Michigan is not a coastal state. Yes, it has over 3,000 miles of coastline. Yes, the Great Lakes are huge. Yes, they look like oceans. Yes, we eat their fish.) Not much has changed about Desposito's since Carlo Desposito bought it in 1968. "The tables and everything are exactly where they always were. The menu is pretty much no different. Boiled shrimp." In 1968, there were many places like Desposito's on the banks of the Wilmington, but more and more of them are starting to disappear, and Thunderbolt worries that it might be next.
4. The Outline: Hot chocolate is wasted on children


Hot chocolate plays a larger than reasonable role in my life. My sister has always been absolutely OBSESSED with hot chocolate. I'm pretty sure she ranks her favorite places to get it, and her highly preferred packaged brand is Swiss Miss and she buys it by the tub. My sister and I both left home at the same time—I was 15 and she was 17—and I have not consistently had hot chocolate since.  
Hot chocolate is indubitably delicious, and I'm a firm believer that it is better without alcohol. Growing up, I drank the beverage all the time, but as I got older I switched to drinking more tea and coffee. Now I usually have some hot chocolate around, mostly because of my sister, and only really drink it when she talks about making some for herself. While hot chocolate—especially without alcohol—is often viewed as a children's beverage, it can also provide adults a bit of respite from our crazy world. Hot chocolate is too good for children. "There are so few unambiguously good things that only become available to you as a grown up. Mainly it's just voting, going to war, and drinking (which, while an excellent privilege, should not be done every night. I think). So give us hot chocolate."  
I read this article over the phone to my sister, and she exasperatedly remarked that "you can't have a life with hot chocolate!!!"
5. BuzzFeed: Ariana Grande Attempted To Fix Her Accidental Japanese BBQ Tattoo, And Here's What It Means Now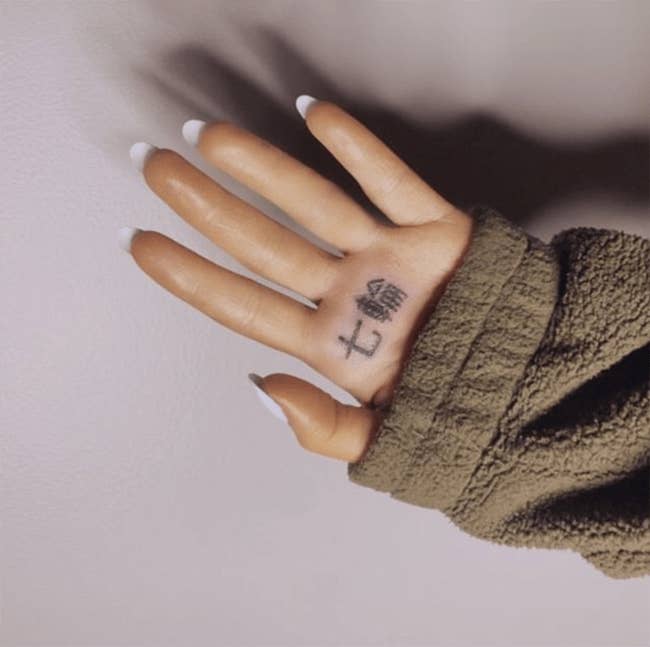 LMFAO! Ariana Grande supposedly a tattoo that said "7 Rings" in Japanese Kanji symbols to commemorate her new song but it actually read as "shichirin" meaning BBQ or a small charcoal grill. In an attempt to remedy her mistake, Grande contacted her Japanese tutor for help, which she only half listened to, so now the tattoo reads "Japanese BBQ finger ♡." ALSO, why didn't Grande consult her tutor before getting the tattoo in the first place?!?!
Apart from the normal trolling, people have also brought up the history of appropriating East Asian languages for an aesthetic in tattoos. Additionally and not surprisingly, Grande was also accused of appropriating East Asian cultures in her 7 Rings music video.
6. GQ: How SoundCloud Rap Took Over Everything


I know that I'm a young millennial, but SoundCloud Rap is such a Gen Z thing. The rap genre is a whole other beast that I frankly love learning about from the outside, but have no interest in getting involved in. This article is WILD!
In the opening story about a concert in Philadelphia's District N9NE, Carrie Batten writes "so many Juuls have died that some fans have resorted to lighting up real cigarettes inside the venue" and the DJ, functioning as somewhat of a babysitter, "spins OutKast's 'Hey Ya!,' which falls on deaf ears. 'Reeeeeefund! Reeeeeefund!' the crowd yells in unison." The Juul thing really got me.
Further on, Batten introduces Matt Ox, a rising star in the genre, as a rapper that "does not yet have a face tattoo" due to the fact that "he's 14 years old and must legally heed the wishes of his 29-year-old mother, Laurel, who has advised him to wait until he's 18. Which is not to say that Laurel is a prude, because she will let Matthew, as she calls him, express himself how he pleases." I listened to one of Ox's songs and he literally sounds like he is 10. But again, I guess he is younger than Justin Bieber was when he released Baby.
7. The Atlantic: Velvet Buzzsaw Is Pure, Absurd, Soulless Fun


Most of the reviews I have read for the Velvet Buzzsaw are surprisingly similar: that it is good and not great, but that does not really matter because it is fun and funny. The film, released Friday on Netflix, follows Morf Vanderwall (Jake Gyllenhaal), an art critic, gallerist Rhodora Haze (Rene Russo) and her receptionist, Josephina (Zawe Ashton), after Josephina finds the work of a dead artist, which they all try to use for personal gain and end up being haunted. Just as in the real artworld, Velvet Buzzsaw is an incestuous world where "art and commerce aren't merely intertwined; they're feeding off each other in unpredictable, dismaying ways."
Imho, the best part of the film has been watching all of the ways in which Jerry Saltz has fangirled over himself after it was reported that Gyllenhall partially based Morf on Saltz.
8. The Cut: What a Chicago-Based Art Advocate Wears to Work


Deana Haggag is amazing! I'm not really sure how I got to know her—probably through going to enough random gallery openings and lectures—but I'm so glad I did. Whenever I saw her she was always warm and generous with her time, and I miss seeing her around Baltimore.
All of that being said, I was disappointed in this interview. Deana is an incredible person, with so many insights, and this article didn't seem interested in that, almost focusing exclusively on clothes. Perhaps this is due to the series, In Her Shoes, but it was a missed opportunity. The best part of the interview is when Deana gets to contextualize fashion with her professional practice, and understanding of herself in responding to what gives her joy at work. "I really believe in artists. Societies are only as strong as the stories we leave behind and that innovation isn't possible without imagination," says Deana, before continuing "We spend our whole lives soaking up their work to figure out who we are and how to express ourselves. It's how we self-actualize." Shoutout to self-design!
9. Next Shark: Buzzfeed is Being Accused of Laying Off Mostly POC and LGBT Employees


I'm friends with someone on Facebook that works at BuzzFeed. She has worked there for about a year and mostly publishes lists of cute dogs and other short posts about fleeting viral moments. When I heard about the BuzzFeed's layoffs, I was curious to know if she would be one of the people affected—mostly because she is fairly new to the company, and it seems like would be easy for someone else to take over her role. As of yet, she doesn't seem to be affected. I have not seen anything about it on her social media, and she is still publishing.
I'm in no way advocating for her dismissal, but she is a cute white girl and in learning about other staff members that have been laid-off—Niki Ang, Kovie Biakolo, and Branson LB amongst others—I find it curious that she has not. As a tweet in the article says "So, is it just me or does it really feel like BuzzFeed made a reputation on the backs of very talented queer and POC creators/editors/etc and then got rid of them all once that reputation was cemented enough to get away with it?" If another publication did this, it is exactly the kind of thing BuzzFeed would report on.
10. YouTube: What's Happening in Venezuela?: Just the Facts

There is a lot of information floating around on what is happening in Venezuela right now, and some of it is better than others. The history of the situation is long and complex and I'm constantly asking a friend who grew up there clarification questions, as a lot of the better coverage is in Spanish, a language I don't read. If you do not know about, or are still confused on the situation, this short video (in English) does a good job of covering the main points of the crisis over the past few years. Importantly, it explains that what is happening right now with the interim president, Juan Guaido, and that it is not a coup!