It's Gemini season. The internet is freaking out. I'm freaking out. It's been a week.
Highlights: Lizzo has been doing hella promo for her new album, Megan Thee Stallion has arrived, Rihanna will always be GOAT… so will Tessa Thompson, #DemThrones, medical models might be getting too real, living as Susan Sontag, botanical sexism, and New York's subway villain. 
1. NPR: Lizzo On Feminism, Self-Love And Bringing 'Hallelujah Moments' To Stage


LMAOOOO! Terry Gross got her ass dragged in this interview. Like, this interview is so awkward and such a hot mess, mostly on the part of Gross, who clearly doesn't know how to engage with Lizzo, as shown in the excerpts below.
TG: Sometimes when I see someone who is largely nude on their album cover and it's women and I think like… it sometimes bothers me because I think, like, "Oh, are you making yourself into a sex object for men?" When you're doing it on your album cover I think it is a really bold statement and it is a statement for women… you know what I mean? Because you are trying to break the mold of what beautiful is.
Lizzo: Yeah… but are you only saying that because I'm fat?
Or when they were talking about Lizzo being a classically trained musician:
TG: You play flute… You've played flute on TV and on videos. A lot of people thought "Oh it's dubbed by somebody else, she can't possibly play like that. She is not a classical person."
Lizzo: I don't know why people think that. That's racist. [Chortles.]
2. YouTube: Lizzo Shares Her F-ckboy Stories, Talks Self-Love, Confidence, New Music + More

I love these two interviews of Lizzo in contrast with each other. Like, obviously the Breakfast Club knows how to engage with Lizzo, as seen in the excerpt below.
Lizzo: Right now I'm single and I've been single for a long time, but that doesn't mean I don't participate in relationships… we just have our own relationship.
Charlamagne tha God: Meaning you just fuck who you wanna fuck, if you wanna get some head you get some head.
DJ Envy: Let him eat it and beat it.
Lizzo: You'd be surprised.
Charlamagne tha God: So how much is media training, Lizzo?
Lizzo: You'd be surprised. I don't need media training. I got a smart-ass mouth. That is the best media training money can buy!
Angela Yee: FYI, and Lizzo be eatin' too.
Lizzo: Lizzo be eatin'… All of it.
I mean, a lot of the difference has to do with the difference in audiences for the platforms, but still. Terry Gross was not the best choice from NPR to interview Lizzo, IMHO.
3. Fader: The Age of Thee Stallion


I had never heard of Megan Thee Stallion until about two weeks ago and now she is everywhere! The 24-year-old Houston rapper is "part of a new, entrepreneurial generation that is using internet fame to leverage long term influence and ownership," writes Lawrence Burney. And while it seems like she is coming from nowhere, "in the last three years, she's worked steadily, releasing four projects while dropping electrifying freestyles in between." This new way of working provides younger artists with more creative autonomy. Megan's magnetism comes from her "perpetual state of trying, failing, failing some more, adjusting her course, and trying again, without ever having the guarantee of success."
4. New York Times Style Magazine: In Conversation: Rihanna
Wow. This is maybe the best thing I have ever read about Rihanna. The whole tone of the interview is amazing. It is the perfect balance between inevitably fangirling over Rihanna and asking questions that are actually about her and her work, and not just the interviewer trying to be cool. Rihanna is starting her own luxury fashion line with LVMH, becoming "the first black woman in charge of a major luxury fashion house in Paris." 
5. Time: Tessa Thompson Is the Superhero Hollywood Has Been Waiting For

Apart from being a gifted actor, Tessa Thompson is one of the most talented celebrities in the game right now. She seamlessly integrates her progressive politics and her work, something that audiences clamor for nowadays.
Thompson was criminally underrated for years before her breakout performance in Dear White People. Since gaining notoriety from Dear White People, then later as Valkyrie in the Marvel cinematic universe and Detroit in Sorry to Bother You, Thompson has become "famous enough to pressure studios into doing the right thing, but early enough in her career that to do so is still a risk." She is willing to put her career in harm's way for what she believes. "Inclusion doesn't happen by mistake," said Thompson. "You have to push people. Sometimes shame is a powerful tool… That wasn't necessarily my intention, but I don't mind it being a dare."
6. Dictonary.com: The Important Rise Of "#DemThrones"


I only started watching Game of Thrones after the first two or three episodes of season 8 aired, and caught up in time to watch the last two episodes as they premiered (I know… I watch TV very quickly). Thus, even as I was watching earlier seasons, I stayed off of GoT Twitter until I caught up.
One of my friends learned I was watching the show and told me to search #DemThrones on Twitter. It is probably the best hashtag on Twitter. The memes are outstanding. The analyses are better than any other reviews I have read.
#DemThrones was created in 2012 during the second season of the show by FiyaStarter (@hotfiyastarter), first appearing on the group's website and in their podcast, before they started using it as a hashtag while live-tweeting the show. The group never meant for #DemThrones to go viral, "but '#DemThrones' went viral nonetheless, and African American culture met mainstream American pop culture. The rest is, literally, history."
7. Real Life: Too Human


The history of science, especially medicine, is WILD. We are taught that science is this objective, rational truth when that is not the case at all. I mean the definition of a kilogram, a basic unit of measurement, was just changed.  
Anyway, over the past few decades, medical schools have increasingly relied on models to teach students. Models "let students practice clinical skills without risking harm to patients, and study anatomy without dissecting cadavers, which are expensive to store, stressful to look at, notorious emitters of formaldehyde — a carcinogenic chemical that stimulates hunger — and much harder to procure." The models and simulators, which have drastically improved over the years, are based on the average human anatomy, eliminating medicine's tendency to pathologize human bodies' "healthy variances" of skull shape, skin color, and sexuality.
Few people are studying the effects this transition will have on future doctors, as "simulation training involves substituting one medium for another — silicone for skin, screens for bodies — with the belief that the skills will transfer smoothly" and there are none on how it can "affect student's biases, empathy, or treatment of patients." While models and simulators can be useful for learning, "the greater the sense of mastery medical models provide, the more they hide the deficiencies and biases they contain."
8. Lit Hub: What Happens When You Pose as Susan Sontag on Twitter?
@Sontagdaily, or Susan Sontag's Diary, is one of my favorite Twitter accounts. Posted daily, the tweets are short excerpts from Sontag's diaries posted on the dates on which they were written. The account is run by Rebecca Brill, who writes, "my choice to tweet from Sontag's, of all famous people's, diaries, was random: I simply happened to have her journals on hand. But I like to believe that Sontag came to me in order to provide me with something that I lacked: a sense of purpose, maybe, or resolve." After all, when you think of Sontag, "you think of integrity."
9. Atlas Obscura: 'Botanical Sexism' Could Be Behind Your Seasonal Allergies


Growing up I never really had allergies. As I got older, I noticed the pollen in the air more and more. I figured it just bothered me because I had moved away from home and wasn't used to the regional pollen. That was until last year when I had a bad reaction to the spring pollen in Baltimore and was mouth-breathing for days before my friend made me get steroids.
Turns out, my allergies are the result of sexism. Since at least 1949 the USDA Yearbook of Agriculture has advised: "when used for street plantings, only male trees should be selected, to avoid the nuisance from the seed," making the trees "one of the most significant reasons why allergies have gotten so bad for citydwellers in recent decades." Tree sexes exist outside of the female/male binary, but it is mostly male trees that produce pollen. And, ironically, "if urban landscapers had prioritized female trees in the same way, neither pollen nor unsightly seeds or fruit would be much of an issue" because, without the pollen from male trees, females won't produce fruit or seeds. But, alas, "Botanical sexism runs deep."
10. Jalopnik: New York Has a Supervillain Pulling Emergency Brakes and Destroying Subway Commutes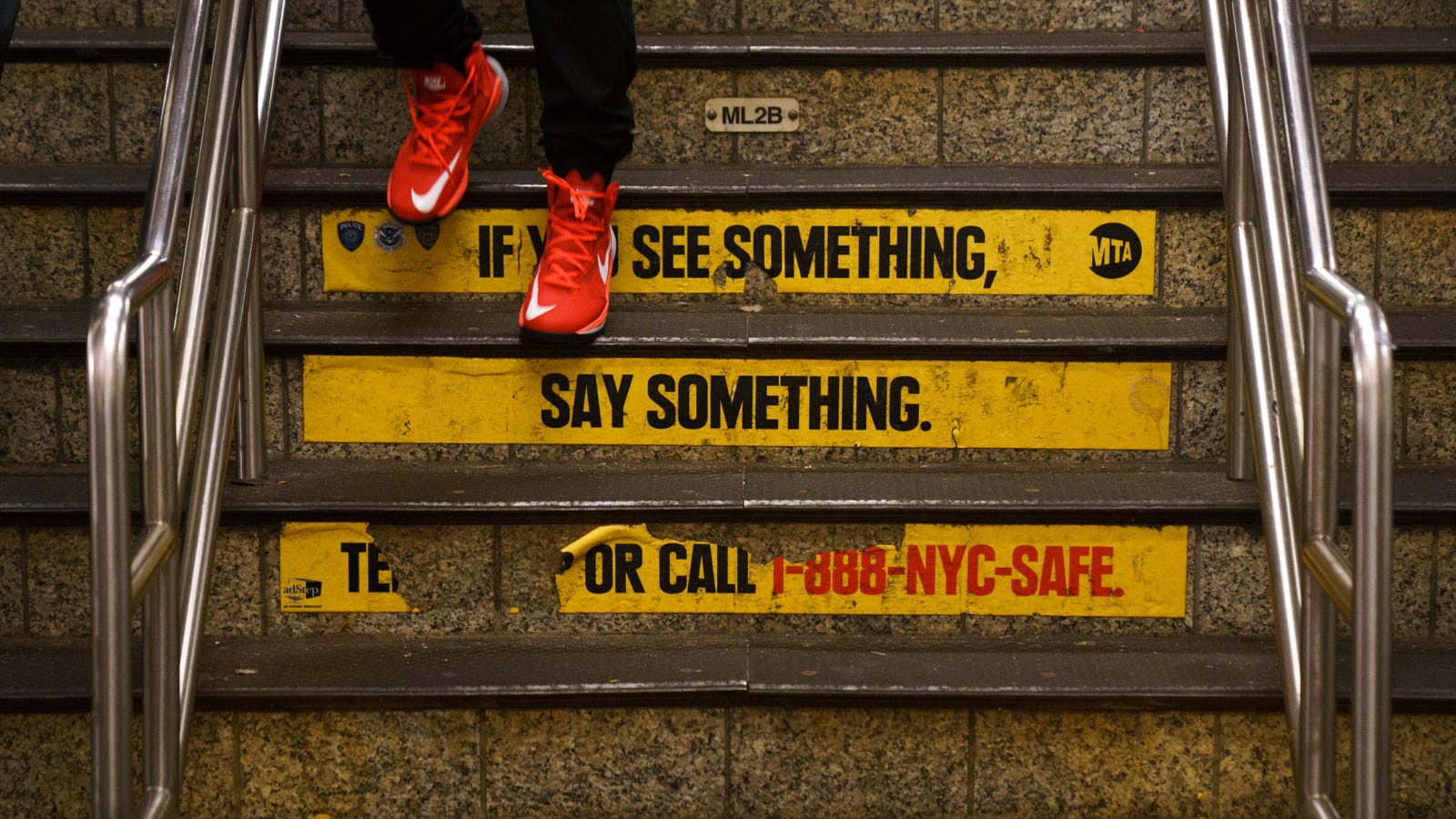 As someone that has never learned to drive, public transit is very, very important to me, and it is very important for people who rely on it every day to get to work. Since April, someone in New York has been pulling the emergency breaks on subway cars, bringing whole lines to a stop in some instances and destroying commutes. The MTA has yet to find the culprit, but it is clear that "this is a nutcase who is addicted to fucking with the trains."
---
*All images taken from reference articles*
Have a suggestion for next week? Email afoehmke@bmoreart.com with the subject line "The Internet is Exploding."