"Art Today in Words and Images" The 21st Annual Residency Program at Maryland Art Place April 24 – June 2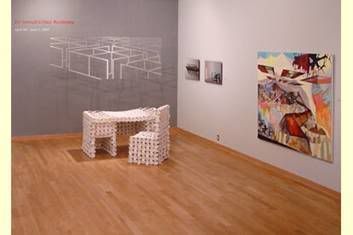 JMD: This is a very slick exhibition with some truly unique artistic practices and viewpoints. The curators did an excellent job of spacing and hanging the exhibition, with the exception of hanging Maren Hassinger and Alzaruba in the same room.
For those of you who missed the panel discussion, it was one of the better ones that I have attended with a fairly honest and free-wheeling discussion of artists, critics and audience. Because of Eleanor Heartney's and Irving Sandler's presence a lot of the discussion focused on the relationship between the critic, the artist and the commodity of art. Baltimore needs more participation in events like this rather than wringing their hands over Art's place in this city.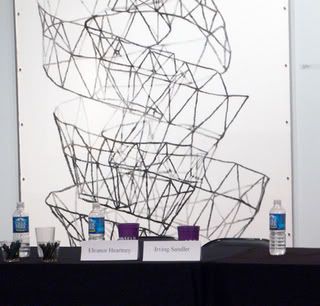 CO: It's overall a good show, very sophisticated and tight. The catalogues are BEAUTIFUL and thick, although I wish the critics had actually written specifically about each artist. The writing in the catalogue is vital and clean in spots, while in others it wavers into descriptive prose. It could be clearer. But I think Ding Ren and Al Miner, both visual artists themselves, were given an overwhelming job and did well, in the face of that. I think in the past MAP chose 3 writers, instead of two, and so each writer was able to focus more deeply on a select number of artists.
I am being picky, but I had a few issues with placement of work. I had a difficult time discerning the Maren Hassenger works from the Al Zaruba ones, so I would have liked more separation between those, although I can certainly see a relationship between the two. Both create ritual, or ritualistic objects, out of everyday, recyclable materials – from Hassenger's twisted newspaper coils to Alzaruba's performance costumes made of garbage bags. I just would have liked more space between the two, or, a closer pairing for purposeful questioning.
RSJ: The exhibition at MAP certainly resonated with me. The cohesive selection worked on many levels and the vision behind the exhibit seems to be on a whole ethnographical, though not entirely.
This might be crazy but the works that remain in my thoughts are the ones that are mostly set by ethnographic terms—Alzaruba's and Maria Karametou's work, and to some extent Anne Chan's and Breon Gilleran's.
Ethnographic field collection is a multi-format, unpublished group of materials gathered and organized by an anthropologist, folklorist, ethnomusicologist, or other cultural researcher to document human life and traditions. A unique created work is brought together through the intentions and activities of the collector (curator in this case and artist). An ethnographic field collection may bring together materials from a wide range of formats, including sound recordings, drawings, photographs, fieldnotes, and correspondence.
CO: This makes sense to me as well. Even in Sophia Silva's glossy, panoramic photographs, there's a sense of collecting, of cataloguing the American experience in empty generic spaces. These photos are large and sharp and saturated with color. They appear to be printed on Plexiglas, with this presentation adding to their clarity. There's something haunting in these empty places, almost as if the artist is identifying all of the STUFF we Americans, especially suburbanites, accumulate, but shows nothing. There's not even a shred of garbage or a shopping cart in these empty scenes. Silva is from Argentina originally, so I think her experience as a cultural 'outsider' gives her a distance – a sort of scientific or objective approach to her subject matter.

JMD: While all the artists exhibit here deserve accolades, I think Alzaruba's and Anne Chan's work reflects an individual quirkiness that I find refreshing.
Alzaruba's work is something that you won't see replicated in some anonymous gallery in NY. The item I want to point out is his use of teeth and mouths in the work. The use of mouths and teeth, in one work the artist's own, suggest sexuality, consumption and desire. With no eyes, nose or ears of their own, these sculptures can only connect by consuming, licking or tasting. It is a powerful metaphor for blind consumption and avarice while also suggesting that the object is enslaved by its own desire to consume and connect. The abject status of these objects serves to balance the exuberance of Alzaruba's performance work under Christo's gates.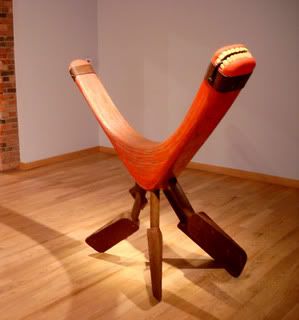 RSJ: Although each item in an ethnographic field collection may have individual value, it gains added significance when viewed in the context of the other materials gathered by the collector in interaction with the people and activities being documented. In a museum exhibition you get the object on the wall or in a vitrine and then a facsimile next to it to display or explain how the object had been used.
Specifically, Alzaruba's figurehead, Howl, the Scent of Light, with its displayed actual artifact next to the documentation of the piece in its original context. The figurehead reminds me of Native American cedar canoes, their wonderful carved prows and yin and yang of the teeth biting at the water, smiling at the gods. And so the video, again mimicking exhibition design, becomes shamanistic. Think of the haunting Edward S. Curtis film, In the land of the War Canoes with its magical jumpy old film.
JMD: Chan's work explores the themes and humor that has been explored by sitcoms like The Office or comics like Dilbert. The workplace is a micro-universe that is unique in its effect upon its inhabitants in its enforcement of ridiculous situations borne out of the necessity to make a living. Offices can be a place of abuse, incompetence, ignorance, love, loneliness, camaraderie, hate, violence, monotony, shifting identity and futility. All of these powerful emotions are rendered in perspective by the office drone's comment that "It isn't real life, it is just business." Chan has the good sense to use the accoutrements of the office to create a Duchampian comment on work and the workplace.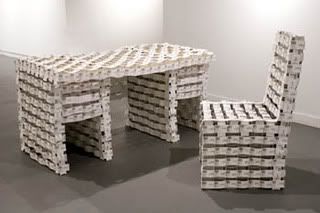 RSJ: I think Anne Chan's outstanding work needed more room. Through the same ethnographic terms, it suffered. I don't think the disparate works are meant to be viewed and understood in an interrelated way. I did like their connections, but not in a sense that they belong immediately to each other the way Gilleran's work does. Though in separate rooms, Gilleran's sculpture and drawings have an intentional relation to each other. Her sculpture, Phenotype II with its elegant lines and light and shadow play is also so much a three-dimensional drawing. Her large intricate charcoal on paper works, Phantom Signals, draws from the sculptures connecting through shadow and depicted three-dimensional space, abstractly.
CO: I loved the sculptural works and the drawings by Breon Gilleron, which were elegant and quirky at the same time. I especially enjoyed the blurring of boundaries between sculpture and drawing, the way the sculptures functioned as physical accumulations of lines, and also as a drawing tool. Lit from the side, the sculptures cast layered linear shadows on the wall, which were every bit as intriguing as the drawings included in the show. The actual drawings were also about these linear systems and layered marks, and worked with the sculptures, as opposed to against them.
RSJ: Maria Karametou's work does the same thing as Gilleron's. In every ethnographic collection, a conscious weaving together of different representational media to achieve a rounded statement. Ifanto, her spectacular work made of bobby pins and hair is just so incredible to look at, it brings to mind silk tapestries. Its obsessive nature and decorative beauty make it appear at first as something of antiquity that would have been made for pleasure or necessity and not art. Although Karametou's work is Art (capital A) and this is what makes it such a wonderful and mysterious work. Next to Ifanto her piece Kallopismos, a lock of long dark and loose hair is on the wall, hanging over a bowl collecting strands of the fallen hair. The bowl sits on a steel pedestal (of the artist's hand) with a mirror and on the floor the pair of hollowed-out feet are filled with pinecones and face out to address the viewer. And where in the title we are suggested that the work is about beatification, the piece is more mysterious than that. They both are. Together it is the type of museum I want to walk through.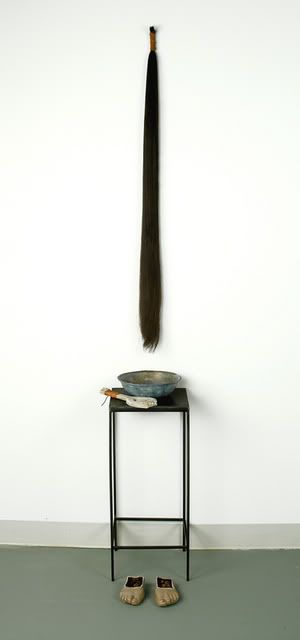 JMD: I am going to contradict myself when it comes to Maria Karametou's work. I find the concepts she is working with to be somewhat banal. Female concepts of beauty and the fetishization and rituals involving feminine appearance seem dated. But the work is so intensely beautiful and well-done that I can't help but be deeply impressed by the work on the wall. Works like this don't need the supporting writing. It only disappoints. I am totally taken in by the "How'd she do that?" impression of the work. Without the writing, the work is a collection of beautiful/mysterious objects that hint towards feminity and appearance without bluntly stating it. It is a perfect example of a somewhat banal concept overcome by creative use of materials, balanced presentation and exceptional craft/execution.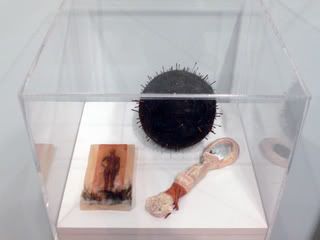 CO: I thought the best work in the show was the most puzzling. I have seen way too many works involving human hair. It is usually gross or sentimental or both, and these were neither. There is a tribal element, from the blocky patterns of overlapping hairpins, that looks like Kente cloth and then that long dark hair. The piece called Swans was most interesting to me, with its repetition of slender bars made from bobby pins, a woman's face, and then the hair. These pieces were perfectly integrated – there was no one thing that felt unnecessary or added on. I am fascinated when artwork appears to arrive from nothing, perfectly intact, with no clues as to the artist's process, because I work in such a completely different way.

RSJ: While I enjoyed Benjamin Piwowar's painting, Untitled, with its dazzling space and use of the organic and architecture, it did remind me of Mehretu and the Leipzig painters (Neo Rauche's school of painting), however it still stopped me. I delved into its space that leans towards abstraction yet contains references to landscape or architectural rendering of spaces that dissolve into brightly colored flat surfaces. Disorienting and graceful. I wonder if computer generated images have influenced him.
JMD: The weakest work was from the painters, but only in comparison to the work around it. I think that Mary Walker's work is pretty and not much more than that. There is nothing wrong with making aesthetically beautiful work but next to work that has sociological or psychological impact like Gilleran, Chan, Alzaruba, Hassinger, or Silva, it looks vacuous and overpowered.
Benjamin Piwowar's paintings are allright but if you are compared to Julie Mehretu and Clifford Still, you had better deliver the goods in a major way. He certainly has great talent for arrangement of shapes and textures but I am unsure if there is visual connection between his sources and his output.
Also, I think that it is a bad sign that the writings on both artists in the MAP catalogue talk mention: on Piwowar, "the world of dreams", "Dark, craggy, abstract expressionist drips", "intestinal passages" and on Walker," crimson hues interplay with textile patterns", "dark tones of paint like the shadow of a wire fence at dusk", "each stamp of paint on a canvas mimics the brown stain a molding leaf can imprint on the pavement after a wet autumn day."
It is nice to talk poetically about the quality of paint on the canvas but painting is much more than just the paint on the canvas.
CO: In the front room, I liked Ben Piwowar's big paintings more in person than I expected to. There's so much going on in them – they could easily turn into messes, but don't. I have no idea how to incorporate graffiti, the painted mark, architecture, cartoons, and a narrative, but it seems to be working. Another good thing about Piwowar's canvasses are the surfaces. From a distance they dazzle, but up close there's so much richness there – and I usually HATE it when people collage onto the canvas, but little bits of paper and other stuff were perfectly integrated into the surface, adding to the layered effect without distracting from the whole. Color choices are a bit wild and youngish. My favorite parts are where the earthy transparent glazes overlap.
RSJ: This is one of the best exhibits I have seen locally. The diverse works connect on many levels. There is, in short, something that looks like authorship—(and is this the curator's display or the Artists?) – and the exhibit contains an emotional expressiveness, collectively the show's strongest statement.
JMD: I've probably gone on too long but it is a quality exhibition. It is somewhat rare to find an exhibition with such quality work and quality artists / writers / critics working together. I would recommend that everyone who cares about art in Baltimore to check it out or at least pick up the catalogue.
For more information on MAP's Critics' Residency Program please visit our website: www.mdartplace.org
Participating Artists: Maria Karametou, Sofia Silva, Anne Chan, Breon Gilleran, Alzaruba, Maren Hassinger, Mary Walker, Ben Piwowar. Writers: Al Miner and Ding Ren