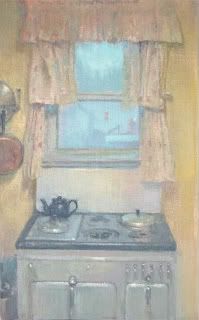 Matthew Klos. Morning Tea. Oil on Linen
Interiors: Gallery II hosts Vincent Hron and Matt Klos presenting artwork in the exhibit Interiors. Hron's work fits into the realist tradition, his use of a non-specific narrative in his paintings captures ordinary situations that allow formultiple interpretations. Klos, with a Masters of Fine Arts from The University of Maryland, focuses on using light to illuminate spaces and surfaces in his paintings. This exhibit opens March 14, 2008 and runs through April 25, 2008.
A public reception will be held on Friday, April 4, from 5-7pm. Meet the artists, and enjoy live music and light refreshments.
Howard County Center for the Arts
Ellicott City, MD 21043
www.hocoarts.org