I went to MICA yesterday to hear Jerry Saltz talk, but unfortunately his talk was cancelled. By default I went and sat in on the Jeff Koons lecture that was happening in Falvey Hall.
I waited in a short line for a few minutes and finally made my way to the guard who asked me for my ticket, to which I replied "um I don't have one, I didn't know we needed ticket for this talk." The young lady was kind enough to give me a hot pink ticket which allowed me standing room only on the balcony level. Fortunately I had some friends that were holding a seat for me so I was able to sit down.
A bit overwhelmed by the auditorium that was packed to the gills I found my friends through the crowd and sat quietly in my seat taking it all in still sort of wishing I was seeing Jerry Saltz give a talk.
In an effort to remain unbiassed I tried to throw any preconceived notions of Koons that I held out of the door and I was looking forward to an opportunity to hear what the artist that everyone loves to hate had to say about his own work.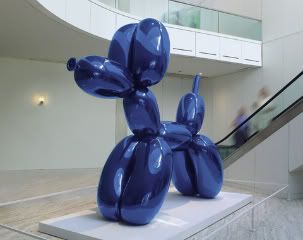 Balloon Dog ( blue ) 1994-2000
For about 45 minutes Koons presented a slide show of his work up until now to the crowded room. One could have even called it a powerpoint visual retrospective with limited information on any of his concepts.
He briefly touched on about ten or so different bodies of work by showing the crowd an image or two from each body of work. He then spoke about the individual pieces, leaving out much useful information on his concepts and any of the processes involved in his art making.
Koons made very vague references to what seem like pretty big ideas in his work. Every time he showed a slide he remained so casual about it. For example if the slide was of a piece of sculpture, Koons would follow up with some sort of sexual explanation. "Oh this new sculpture references sexuality… From the front one might see the neck of the swan as phalic and very masculine, one may even see testicles… If one looks at it from another angle they may also see vaginal forms." He repeatedly said how his work could reference both male and female genitalia. But why? Why the dual sexuality, thats what I was looking for, an answer or at least some sort of explanation.
The crowd would chuckle and Koons would advance to the next piece of work seemingly unphased.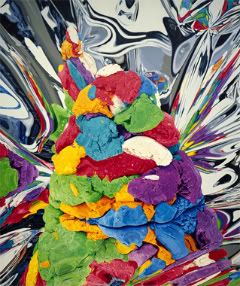 Play-Doh 1995-2007
Koons showed a play dough piece and other work that was inspired by his son who was "abducted." I had no idea his son was abducted but that seems like a huge deal, that deserves some sort of explanation to a crowd of young artists who probably aren't one hundred percent in the know about Jeff Koons. To have your son abducted, as it was put, seems like a pretty huge deal. I spent a few moments confused and didn't understand why it was just shrugged off as it it was just an ordinary part of life. Call me crazy bit that is a huge deal, and he should not have expected the whole room to be informed on the situation. I surely wasn't.
I was also intrigued with the fact that on more than one occasion Koons made comments about how he doesn't feel as though a piece of work is successful unless everybody is happy. As far as I know everybody is never happy, especially with him, so does this mean that Koons considers himself a failure, even though he is an extremely successful artist and businessman?
It was frustrating that Koons also didn't make mention of his studio practice and didn't mention any of many assistants that work in his studio for him. I was way more interested in hearing about the fact that his studio is essentially an art making factory that employs fifty plus workers at all times. I was really interested to learn how his assistants work, what types of decisions they are able to make and so on and was left a little bit disappointed to find that he neglected to share this aspect of the process involved in his work.

Ilona's Asshole 1991
After the slide show there was a brief question and answer session, unfortunately I was sitting it the way back and I wouldn't have been called on for reasons as simple as the man probably couldn't see me. The questions asked weren't so satisfying to me either, all things considered I was hoping for better questions than "whose genitals are in that piece called Ilona's asshole?" To which Koons responded "oh mine." Followed by crowd laughter and then a quick Koons tangent about how seeing someones asshole is like seeing everything and how awesome it was that Ilona was so comfortable and so willing to reveal her asshole.
Was it a lecture or was it just another opportunity to show what the accomplished artist or better yet the "art star," as he referred to himself during the lecture, has done? I am glad I had a chance to see him talk. As an artist, Koons has made some gigantic accomplishments which I find an extremely amazing thing to have done. I just wish the lecture had had just a tiny bit more substance and I wish it would have satisfied the intellectual part of me, even if only a tiny bit. Maybe the talk wasn't geared to some one like me because it seemed like it was more geared towards teaching a group of horny seventeen year old boys about art history through various pieces of sexual art.