BmoreArt's Picks presents the best weekly art openings, events, and performances happening in Baltimore and surrounding areas. For a more comprehensive perspective, check the BmoreArt Calendar page, which includes ongoing exhibits and performances, and is updated on a daily basis.
To submit your calendar event, email us at events@bmoreart.com!
GET BMOREART'S WEEKLY NEWSLETTER
<><><><><><><><><><>
CityLit Project Celebration
Tuesday, October 18th : 6:30-8:30pm
Eubie Blake National Jazz & Cultural Center
847 North Howard Street : Baltimore 21201
Join the staff and board of CityLit Project to celebrate the "Next Chapter" of our 12-year-old, award-winning literary arts organization. We will honor Founding President/CEO Gregg Wilhem, welcome new Executive Director Carla Du Pree, and celebrate CityLit's exciting new direction in youth programming.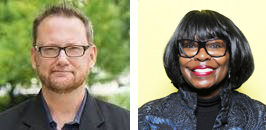 The evening will include lite fare, beer, wine, the unveiling of the CityLit signature cocktail, plus literary entertainment, and a presentation of the annual Chic Dambach Award.
A raffle will be held for tickets for two to Center Stage's Spring 2017 production of Toni Morrison's Jazz and Active Contemplation, a painting by local artist Minás Konsolas.
<><><><><><><><><><>
Artists in Conversation: NO MAN'S LAND with Rozeal
Tuesday, October 18th : 6:30-9pm
National Museum of Women in the Arts
1250 New York Avenue NW : Washington DC
Eat, drink, and be challenged. Join artist Rozeal in conversation over light refreshments.
Rozeal discusses her background, artistic process and philosophy, and works featured in NO MAN'S LAND: Women Artists from the Rubell Family Collection during this informal and intimate in-gallery experience. Participants have ample time to explore the galleries, look closely at Rozeal's work, enjoy food and drink, and engage in conversations with Rozeal and fellow attendees.
RESERVATIONS:
Required: $25 general; $15 members, seniors, students.
ABOUT THE EXHIBITION:
Focusing on images of the female body and the physical process of making, large-scale paintings and sculptural hybrids by 37 contemporary artists from 15 countries appear in NO MAN'S LAND, organized by the Rubell Family Collection, Miami.
<><><><><><><><><><>
I Want to Buy a Building: Solid Real Estate Advice for Artists + Creatives
Tuesday, October 18th : 6-7pm
Maryland Art Place
218 West Saratoga Street : Baltimore 21201
Ever dreamt of owning a church, warehouse, funeral home, boarded mansion, or corner bodega? Seeking a unique, multi-use property for your creative practice? Baltimore City real estate affords significant opportunities for artists and creative professionals, but the path to owning property is not clear-cut… especially if your income is unpredictable. guerilla / realty will be holding an informational session, I Want to Buy a Building, at Maryland Art Place that will cover property ownership geared towards artists.
You probably already have a few spaces on your mind, but so often real estate feels inaccessible. You are entitled to information about this process and we will demystify it for you. Learn what's really involved when purchasing a building, and you will leave with the information and tools you need to start the process. All four agents will be present to share information and experience – Rachel Rabinowitz, David Tomasko, Tomeka Givens, and Makeda Phillander.
Baltimore is not your standard city with a typical real estate scene. The agents at guerilla / realty have experience working for artists and successfully pairing them with distinct homes and buildings in Baltimore City. Whether that means following auctions, searching out bank owned properties, or working with the client to find incentives, loans, and available grants, they can connect the dots and sort through the information. It is possible to take the step from renting to owning.
<><><><><><><><><><>
Made in Baltimore Presents: Workshop Wednesday
Wednesday, October 19th : 8-10am
Open Works
1400 Greenmount Avenue : Baltimore 21202
Workshop Wednesdays is a business development event series targeted to maker and small manufacturing companies.  Come learn tips and tools from experts in a wide range of business services, and network with fellow makers over coffee and breakfast.
Please join Made in Baltimore at Open Works for the first session of their monthly Workshop Wednesday speaker series: Access to Capital for Small and Emerging Maker/Manufacturing Business.
Is your business ready for financing? Are you curious about the lending tools available to acquire new equipment or renovate your facility? Come learn about preparing your business to work with financing institutions from two of Baltimore's leading small business financers.
This month's speakers include:
John Lewis, Senior Vice President – The Harbor Bank Community Development Corp
Ramsey Harris, Vice President of Small Business Lending – PNC Bank
<><><><><><><><><><>
Mary Opasik: Finding Meaning – Reception + Artists Talk
Wednesday, October 19th : 5-6:30pm
Julio Fine Arts
Loyola University Maryland : Baltimore 21210
The Julio Fine Arts Gallery, Loyola University Maryland presents Mary Opasik: Finding Meaning at the Loyola-Notre Dame Library Gallery. The exhibit is in conjunction with the Sehn Family artist's residency at Loyola the week of Oct. 17th. Using low tech processes to combine cast-off furniture parts, aged metals, and hardware, Opasik re-interprets and honors the unique histories of each weathered component. Mary Opasik has been working with found object assemblage for 28 years. Raised in Baltimore city, her art is influenced by a society whose streets and woods are littered with discarded materials.
Opasik received a B.F.A degree from the Maryland Institute College of Art. Her art has been exhibited in The Huntsville Museum of Art (Alabama), Coast Gallery (Pebble Beach, CA), the American Craft Council (Baltimore, MD) and in galleries extensively. In May 2015, Mary Opasik was an Inside Zone artist-in-residence in Borsec, Transylvania, Romania. She was a grantee for The Alfred & Trafford Klots Residency Program at Rochefort-en-Terre (Brittany, France), the Fundacion Valparaiso (Spain) and the Vermont Studio Center (U.S.). The artist has participated in Maryland Art Place's Critics' and Residency Programs in 1991 & 1994 and has taught in visiting artist programs. Her work has been published in "Found Object Art" by Dorothy Spencer and "Found Object Art II" by Tina Skinner. Her public art collaborative project, UNDERWATER TREASURES is a found object and mosaic mural on the wall outside Elridge Library. Opasik is an ongoing participant of Nature Art in the Park in Baltimore County, MD.
<><><><><><><><><><>
SHAG: Bypassing Biology with Zoltan Istvan, Amy Karle, Ben Julian
Wednesday, October 19th : 5-6:30pm
University of Baltimore – Business Center Auditorium
11 West Mount Royal Avenue : Baltimore 21201
<><><><><><><><><><>
Sound Off LIVE!
Wednesday, October 19th : 6-10pm
Hard Rock Cafe
601 West Pratt Street : Baltimore 21230
Sound Off Live!, Baltimore's "Battle of the Bands" returns to showcase emerging bands from the Delaware, Maryland and Virginia region on Wednesday, October 19 and Thursday, October 20 from 6-10pm at the Hard Rock Café in Baltimore. The winning bands selected from Sound Off Live! will perform at Light City Baltimore, (March 31-April 8, 2017) Artscape, (July 21-23, 2017) or the Baltimore Book Festival (September 22-24, 2017). Over the two nights, eighteen bands have fifteen minutes to perform three songs in front of an audience and a panel of judges. A part of Free Fall Baltimore, the event is free and open to the public. Sound Off Live! is produced by the Baltimore Office of Promotion & The Arts.
The judges for Wednesday night are Mike Evitts, Vice President of Communications of the Downtown Partnership of Baltimore; Ellen Cherry, Emmy-nominated singer/songwriter and Marcy Crump, CEO and Editor-in-Chief of The Flywire, a media resource highlighting entertainment, trendsetters & business networking. On Thursday, the judges areRob Baier, Owner of Straleigh Entertainment, a talent booking and event company; Charlie Hughes, Sound Engineer at the Metro Gallery and the Ottobar and Tiye Jameson, Founder of the music blog LyricFancy.com.
<><><><><><><><><><>
Make Night: Scents of the Medieval Era
Thursday, October 20th : 6-9pm
Walters Art Museum
600 North Charles Street : Baltimore 21201
Learn about the sacred, medical, and domestic applications of scent in the medieval era, and blend your own medieval "scentscape" as a perfume or home fragrance. California-based artist Brian Goeltzenleuchter will guide you in a hands-on, nose-on exploration of popular medieval scents as part of his larger project Sillage, which makes its East Coast debut at the Walters on December 4.
Inspired by the special exhibition A Feast for the Senses.
Make Night is an evening blending good wine and craft beer, great company, and fantastic art-making experiences led by local creative minds. Each workshop begins with a free drink and a visit to the galleries. Advance registration required.
<><><><><><><><><><>
Nia Simmons: Third Thursdays with Live Performances
Thursday, October 20th : 6-8pm
Reginald F. Lewis Museum
830 East Pratt Street : Baltimore 21202
Join for the soulful sounds of R&B and jazz songstress Nia Simmons – The Songbird. Ms. Simmons has been touring with R&B / gospel star Regina Belle as a part of the Phaze II Jazz Band. This talented Maryland State Arts Council Individual Artist Award grantee recently released her highly anticipated solo project "A Songbird's Journey."
The concert is a part of the museum's Third Thursday series. On the third Thursday of the month, enjoy late night admission to the galleries until 8pm and a live show. Doors at 5pm, show at 6pm. $8 members, $10 non-members. Sponsored by WEAA
<><><><><><><><><><>
Leslie Shellow: FIERCE BEAUTY – Reception + Artist Talk
Thursday, October 20th : 5-7pm
Julio Fine Arts
Loyola University Maryland : Baltimore 21210
The Julio Fine Arts Gallery at Loyola University Maryland presents FIERCE BEAUTY an installation of large, site-specific drawings by Leslie Shellow. Nature, overwhelmingly large or microscopically small, sometimes terrifyingly violent and often amazingly beautiful, is what inspires Leslie Shellow's work. Shellow says: "Attraction, repulsion, contraction, expansion, growth, decay, beauty and ugliness are all aspects of Nature that are underscored in my work. These polarities function both internally (in the body) and externally (in the universe) in similar ways. Though these terms would tend to suggest both positive and negative forces working at odds with one another, every plant or animal, every weather pattern or atmospheric event, every bacteria or virus (whether it is nourishing or damaging to humans) follows its own programed behavioral path, and ultimately ends up living and dying just like we do." Accompanying the installation is a new body of work on a smaller more intimate scale.
In 2015, Shellow was selected as a Sondheim Prize semi-finalist and exhibited at Arlington Arts Center in Arlington, VA.  She was awarded the Maryland State Arts Council Individual Artist Award for Works on Paper in 2010 and 2013 and 2016. She holds an MFA in Painting from Towson University, a BFA from The Maryland Institute College of Art and a BA in Education from the Evergreen State College. She currently teaches Drawing at the Maryland Institute College of Art. She has exhibited in such venues as The Delaware Center for Contemporary Art, the Silber Art Gallery at Goucher College, the King Street Art Gallery at Montgomery College, the National Institute of Health and Carrol Square Gallery in Washington DC.
<><><><><><><><><><>
Second Stoop: Fright Night 
Thursday, October 20th : 7:30pm
The Creative Alliance
3134 Eastern Avenue : Baltimore 21224
The Stoop presents an open mic night of true, personal tales on the theme "Fright Night: Stories about nightmares, phobias and good ole-fashioned anxiety."
Put your name in the hat to tell a 3-minute true, personal tale on the theme — or just come to listen. During intermission, sign up for karaoke on the big stage. Once the stories stop, the singing begins!
7:30pm | $12, $10 mbrs | + $3 at the door
<><><><><><><><><><>
Building a Sustainable Life as an Artist: Intensive Workshop
Friday, October 21st + Saturday, October 22nd
EMP Collective
307 West Baltimore Street : Baltimore 21201
Why artists are poor and why they shouldn't be
Tools artists have used to make things easier
How to build a life that is balanced, productive, and sustainable
Based on ten years of work with artists locally and nationally, artist leaders will offer tools for reconnecting with our deep values, building community, and managing our time and money.
How much does it cost? It's free (but the class size is limited).
Who is it for? Working Baltimore artists.
Do you have to attend both sessions? Yes.
Will there be beverages? Of course. And lunch on Saturday.
How do I apply to participate?  Register here: http://www.artistsu.org/baltimore
Friday, October 21, 2016, 7:00 pm – 8:30 pm
Saturday, October 22, 2016, 10:00 am – 5:00 pm
<><><><><><><><><><>
SPARK PLUG Presents: Power (I Know It When…) 
Friday, October 21st : 7-9pm
DCAC
2438 18th Street NW : Washington DC
SPARKPLUG
DCAC's Artist Collective
Curated by Lea-Ann Bigelow
Michael Booker, David Ibata, Megan Maher, DeLesslin George-Warren, Jerome Skiscim, Casey Snyder-Magrys, Brendan Smith, Jerry Truong, Fabiola Alvarez Yurcisin
October 21 – December 4
Opening Reception: Friday, October 21 at 7-9 pm
Artist Talk: Thursday, November 17 at 7:30 pm
Happy Hour: Wednesday, November 30 at 6-8 pm
Closing Reception: Sunday, December 4 at 5 pm
Power (I Know It When…) is the second exhibition by the current incarnation of Sparkplug, DCAC's Artist Collective. Sparkplug's nine members will share new paintings, sculpture, photography and installations exploring the dynamics, dimensions and implications of power (and empowerment) in its many forms. Political power. Physical power. Spiritual power. Technological power. Psychological, sensual and – pulsing throughout – creative power.
A phenomenon with strong and conflicting connotations, power can be admired, accessed, amassed, relinquished, feared or confronted. But it is not in the nature of power to be ignored. For the artists of Sparkplug, a sense of personal urgency and preoccupation with what it means to live in America, now, has guided their interrogations of power. The results are as timely as they are revelatory.
<><><><><><><><><><>
Jewelry Edition Vol. 3 – Pop Up Gallery Opening
Friday, October 21st : 6-9pm
Baltimore Jewelry Center
10 East North Avenue : Baltimore 21218
Jewelry Edition, a traveling pop-up gallery, is opening at the Baltimore Jewelry Center on Friday, October 21, from 6-9pm.
This will be a great chance to get some exciting contemporary jewelry for yourself!
Kat Cole, one of the curators, will be at the opening – a great chance to meet an amazing jeweler.
ALSO, all Baltimore Jewelry Center members get a $25 voucher to spend at the show! Check out our membership levels for a chance to get in on the deal!
Come on down, the work will be up and for sale through November 18!
<><><><><><><><><><>
James Tisdale Workshop
Saturday, October 22nd + Sunday, October 23rd
Baltimore Clayworks
5707 Smith Avenue : Baltimore 21209
James will be showing how he brings one of his figures to life with his building techniques using a heavily grogged clay body. James will discuss and demonstrate his surface techniques and firing processes which involve the application of layers of underglazes, stains, and glazes to add depth and a distressed look to the piece. He will be open to the requests of participants to demonstrate various structural components when dealing with the figure throughout the weekend.
He will speak about his subject matter: roots of origin and the evolution of content over the years, how his historical art influences range widely from the figurative art works of the Renaissance, to the personally powerful folk art of the south. The workshop will be an interactive dialogue with all who attend.
October 22 & 23, 2016
Saturday & Sunday, 10-4pm,
Fee: $200 member/$225 non-member
<><><><><><><><><><>
Teen Summit: Stop the Violence
Saturday, October 22nd : 10am
Reginald F. Lewis Museum
830 East Pratt Street : Baltimore 21202
The Reginald F. Lewis Museum hosts the Teen Summit: Stop the Violence on October 22, 2016, 10am-3:30pm as a part of Free Fall Baltimore. The forum will provide safe and artistic spaces for youth to process the adversity they have faced in their lives, brainstorm solutions to prevent and reduce gun violence, and become change agents. The event is a related program to the museum's newest exhibit, Kin Killin' Kin.
"We saw an important need to gather youth as we host the exhibit Kin Killin' Kin. The images in KKK expresses the artist James Pate's concern for the heartbreaking deaths of young people due to gun violence. As a museum based in Baltimore, we are in a community where youth are continuously experiencing trauma from losing their loved ones or peers early in life. The summit lets the problem-solving and healing process begin with the youth themselves," says Dr. Roni Jolley, Reginald F. Lewis Museum director of education.
Youth, ages 12-19, will participate in workshops on conflict resolution, skill-building and creative nonviolent expression through music, writing, visual arts, and media. The keynote presentation is writer and political activist, Kevin Powell. Activities include a youth panel moderated by WEAA radio host Farajii Muhammad and a culminating spoken word and hip hop performance by Speak Life Tour that promotes peace and non-violence. Workshop presenters include the Griot's Eye, Art With A Heart, Kariz Kids Youth Enrichment Services, Warriors Entertainment LLC and Baltimore Peace by Piece.
This event is free and a continental breakfast and lunch will be provided. However, online registration is required at lewismuseum.org.
<><><><><><><><><><>
Morgan Entrepreneurs Pop Up Shop
Saturday, October 22nd : 8:30am-3pm
Morgan Business Center
4100 Hillen Road : Baltimore 21218
<><><><><><><><><><>
A Medieval Life Family Festival
Saturday, October 22nd : 11am-4pm
The Walters Art Museum
600 North Charles Street : Baltimore 21201
o on a multi-sensory journey while celebrating the arts and cultures of medieval Europe. Enjoy activities connected to the special exhibition, A Feast for the Senses: Art and Experience in Medieval Europe, as well as the permanent collection of medieval art.
Visitors of all ages will be immersed in the medieval culture through hands-on art-making, cultural performances, storytelling, artist demonstrations, gallery scavenger hunts, and special appearances by our adored mascot, Waltee.
Join us for this FREE Family Festival!
<><><><><><><><><><>
Artist Talk & Doors Open Tour with Amy Davis and James Singewald
Saturday, October 22nd : 11am-2pm
Full Circle Photography
33 East 21st Street : Baltimore 21218
Baltimore Re-Collected: Architecture Past & Present
Photographs by Amy Davis and James Singewald
Amy and James will give exclusive talks at 11am and 1pm respectively. Amy's project, Flickering Treasures, documents the state of Baltimore's trove of working, converted, and disintegrating movie houses. James' project, Baltimore: Block by Block, is a methodical and technical feat of photographic vision as it focuses on ten historically significant avenues in the city. Their work in Baltimore Re-Collected compliments each other's vision, and reinforces their projections of these shared spaces as a valuable component of our local cultural identity.
Full Circle, open from 10am-4pm, is one of more than fifty buildings included in Doors Open Baltimore. Learn about Charm City's fascinating history through this free and exciting self-guided tour of its architecture, and the people who design and preserve it.
More information at http://doorsopenbaltimore.org/
<><><><><><><><><><>
Good and Plenty – Artist Talk
Saturday, October 22nd : 1pm
School 33 Art Center
1427 Light Street : Baltimore 21230
Join us on Saturday, October 22 at 1pm for a Gallery Talk with the artists of the Good and Plenty exhibition in the Main Gallery!
The artists present will include Darcie Book, Amy Hughes Braden, Matt Hollis, and Stephanie Williams. Come meet the artists, see the show and enjoy light refreshments!
'Good and Plenty', on view until October 29, 2016:
Most of us grew up with color televisions, computer monitors, and mobile phones whose screens emanate a myriad of colors seemingly not replicable in the natural world. Using them daily, how much do these devices influence us? Utilizing distinctive methods, the artists of GOOD AND PLENTY may be attempting to recreate the luminosity and hue from these glowing beacons. Matt Hollis constructs new worlds using manufactured materials, drawing viewers close by employing the clean vivid color of familiar objects and textures disguised through accumulation. Stephanie Williams' installation features unnaturally bright colors in thread and fabric, at first obscuring the depiction of forcemeat and human body parts. Darcie Book uses dried acrylic house paint to create swirled, candy-like three-dimensional environments. Estee Fox and Amy Hughes Braden both work in heavily saturated colors, either with acrylic paint or ink on canvass or paper, beckoning viewers to stand close and discover every slash of color and it's meaning. 
<><><><><><><><><><>
Connie Imboden: A Retrospective – Opening Reception
Saturday, October 22nd : 6-9pm
Y:Art
3402 Gough Street : Baltimore 21224
Y:Art Gallery & Fine Gifts is pleased to announce the opening of our ninth exhibition, Connie Imboden : A Retrospective, with the work of world­renowned artist and photographer Connie Imboden. This is the first time the artist will be exhibiting her work in 13 years. The exhibition will feature an extensive body of Imboden's photographs spanning over three decades, including a selection of well­known earlier black & white photographs as well as new color photographs that have never been exhibited. The exhibition will run from October 19 ­ November 26, 2016 with an opening reception held on Saturday, October 22, 2016, 6pm­9pm.
For more than 30 years, Connie Imboden has used photography to examine, distort, and redefine the human body. Using the reflective, and sometimes altering qualities of water and mirrors, her images create new forms that are at once mythological, archetypal, and expressive. They are beautiful yet simultaneously disturbing, elegant though often haunting. By so deeply investigating a subject we are so familiar with ­ the figure ­ her work reveals deeper meaning and insight to the human psyche. Seen through the camera and free from darkroom or computer enhancement, Imboden's photographs display the strangeness of reality in an age of digital manipulation.
<><><><><><><><><><>
The Army That You Have: Closing Event and Performances
Saturday, October 22 from 7-10 pm
Performances by:
Matt Papich
Natalia Panfile
Graham Coreil-Allen
Jonathan Taube & Iman Djouini
Jaimes Mayhew with Asher Kolieboi and Alexa Meng
Brian Stansbury
Performances on the closing evening of The Army That You Have utilize dirt and survivalism in humorous, aggressive, ritualistic, obsessive, and mundane variations. These performances build on the metaphorical connotations of dirt as a material, through grunge, through dirty language, through bodies, via dirt's nebulous definitions. Some works will be durational, and others will occur at specific moments throughout the evening. Saffron cigarettes, filthy speech, ice minerals, and scouring expand the context of the works in The Army That You Have.
"The Army That You Have"
"Q: Why do we soldiers have to dig through local landfills for pieces of scrap metal and compromised ballistic glass to up-armor our vehicles? And why don't we have those resources readily available to us?"
"A: It isn't a matter of money. It isn't a matter on the part of the army of desire. It's a matter of production and capability of doing it. As you know, ah, you go to war with the army you have – not the army you might want or wish to have at a later time. You can have all the armor in the world on a tank and it can (still) be blown up …"
– Donald Rumsfeld, December 2004
These realistic fantasies presented in "The Army That You Have" assert that we can, as a society at large, rethink and critique disciplinary boundaries of making, process, and product, and posit the hope for a more careful world. They use the most available and ubiquitous material at hand and underfoot: dirt. Collaborations with dirt through force, suggested force, and passivism – ridiculous, pluralistic, topical, explosive, meditative, and absurd – occupy suggested futures and self aware presents. Always maintaining an awareness of futility, this work presents making as an act of creative and personal survival. These artists use dirt as a literal and metaphorical pathway to utopian reconstruction of our received social values and our projected existence, using the material underneath our literal and metaphorical feet as a mechanism to suggest and occupy a greater future and a more responsible now.
Curated by Marian April Glebes
This event is partially supported by Free Fall Baltimore. Free Fall Baltimore is a program of the Baltimore Office of Promotion & The Arts made possible by presenting sponsor BGE, with generous support from The Abell Foundation, Atapco Properties, the National Endowment for the Arts, and the Henry and Ruth Blaustein Rosenberg Foundation.
<><><><><><><><>
Michael Chandler: New & Resolved – Closing Reception
Sunday, October 23rd : 2-5pm
Bismark/Wilson Gallery
1760 Bank Street : Baltimore 21231
The artist will speak briefly at 3:30 pm.
http://www.jmichaelchandler.com/
<><><><><><><><><><>
Matisse/Diebenkorn Opening Celebration
Sunday, October 23rd : 12-5pm
Baltimore Museum of Art
10 Art Museum Drive : Baltimore 21218
Join us for a fun-filled afternoon with activities for all ages and specially priced tickets to Matisse/Diebenkorn—$10 adults and free for ages 18 and under.
Awaken your inner artist and create a beautiful painting in the Museum's studio
Try your hand at figure drawings with live models
Learn painting techniques from a local artist
Tour the BMA's galleries with local artists to explore how artists work with color and the human figure
Hear Gretchen Diebenkorn Grant share memories about her late father, Richard Diebenkorn
Enjoy a wine tasting with wines from France and California, places where both artists' creative imaginations flourished